Lamar Jackson Demands Respect For Kodak Black After His Multiple Features On Kendrick Lamar's New Album
Published 05/14/2022, 7:50 AM EDT

Follow Us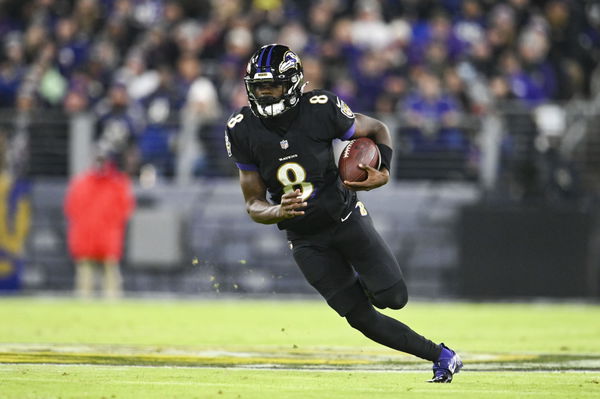 The companionship of Lamar Jackson and Kodak Black is to be envied. Both are from Pompano Beach, Florida, and have aided each other during their careers. The two have a mutualistic relationship, whether Lamar attends Kodak's legal cases or Kodak glorifies Jackson's triumphs. Lamar has recently endorsed Black in order for him to give him the credit he deserves.
Lamar Jackson is now prepping himself for another run alongside the Baltimore Ravens. However, there are still some uncertainties in his contract talks, as Jackson hasn't signed a long-term deal. The former MVP will play the 2022 season in the concluding year of his current deal. This time, he doesn't have his prime target, Marquise Brown, increasing the probability that Jackson will play somewhere else in 2023.
ADVERTISEMENT
Article continues below this ad
Mr. Morale & The Big Steppers, Kendrick Lamar's new album, has finally arrived. This new album includes 18 new songs as well as numerous outstanding features. Among the most shocking appearances on the release was Kodak Black, a hip-hop fan favorite.
Kodak appears on "Rich (Interlude)" and also has a significant role on the album's track, "Silent Hill". It pleasantly amazed enthusiasts to hear Kodak on the new album. Count in Lamar Jackson as a fan as well. On Twitter, the Baltimore Ravens quarterback embraces the hip-hop artist, demanding that he be treated with respect.
Lamar mentions on Twitter with great enthusiasm and a bouquet and GOAT emoji, "Now give [Kodak Black] his flowers."
Kodak Black has been facing some criticism over some controversies he's been involved in. However, it looks like Lamar is backing up one of his good friends, Kodak Black.
Lamar Jackson and Kodak Black: A history not everyone knows
Kodak Black Black and Jackson went to elementary school together, and the 21-year-olds grew up around each other in Pompano Beach, Florida. Back in the year 2018, Black shows his aid for Jackson during the AFC North championship game, where he rushed for two touchdowns and played his way to a 26-24 win over the Browns.
ADVERTISEMENT
Article continues below this ad
As the quarterback went off of the field, Black, dressed in a Jackson jersey, met him on the sides. Both of them hugged it out. The rapper then posed for photos with Jackson and his teammates in the locker room and even gave the quarterback his "1800" chain.
ADVERTISEMENT
Article continues below this ad
In some games, Jackson has performed the "Kodak bop" as a touchdown celebration. He's also stated that he listens to Black before each play. Both of them have some significant history together, which can be clearly seen in their tweets as well.
Watch This Story: Tom Brady Posts Epic Photos From Miami Grand Prix Including Michael Jordan, Lewis Hamilton, Toto Wolff, And David Beckham