'Lamar Reached Out' – Juju Smith-Schuster Opens up on Ravens Contract Talks
Published 04/09/2021, 11:55 AM EDT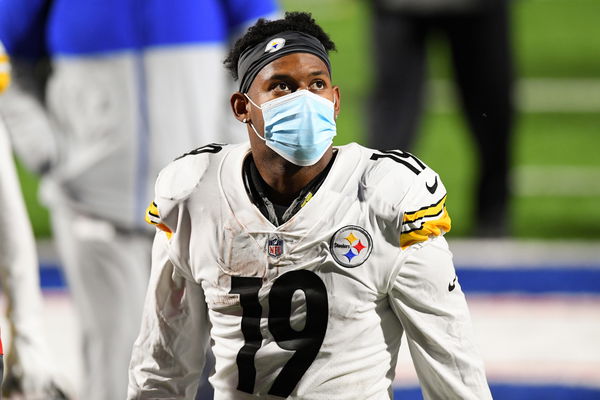 ---
---
Pittsburgh Steelers drafted a young Juju Smith-Schuster during the 2017 NFL Draft. He was selected in the 2nd round (62nd) overall. The University of Southern California product put pen to paper on a four-year, $4.19 million contract with $1.84 million guaranteed.
ADVERTISEMENT
Article continues below this ad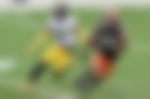 It included a signing bonus of $1.19 million. When Juju made his debut (as a kick returner) against the Cleveland Browns in Week 1 of the 2017 season, he was the youngest player in the league. He ended his rookie season with 917 receiving yards and 7 receiving TDs.
ADVERTISEMENT
Article continues below this ad
He's been a pivotal part of coach Mike Tomlin's Pittsburgh Steelers in recent years. Smith-Schuster concluded the 2020 season with 831 receiving yards and 9 receiving touchdowns as the Steelers bowed out in the AFC Wild Card Round.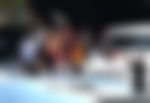 Juju Smith-Schuster was persuaded by Lamar Jackson to sign for the Ravens
Juju Smith-Schuster appeared on a recent podcast alongside NFL Hall of Famer, Michael Irvin. The highly-rated wide receiver tested free agency for a few weeks before agreeing to an extension with the Steelers. But he revealed that he was in talks with 2019 NFL MVP Lamar Jackson over a potential move to Baltimore.
He said, "Baltimore, K.C., they're all great teams, no doubt. These teams are playoff contenders every year for the next five to 10 years, and I respect that about them. Tee Martin was a coach at USC who coached me, he ended up going to the Ravens and he reached out and that's how that process started. Lamar reached out, the head coach called, Marlon Humphrey's hitting me up. It starts getting serious when the players start texting you and hit you up like, 'Yo, what's up, bro? What we doing? Come win.' All respect to them, and it was cool. But I think with me it's more so staying home, staying loyal. In my situation, we have a new OC, Ben's coming back, my relationship with my receiver coach, Ike Hilliard, is amazing. You can't beat that."
ADVERTISEMENT
Article continues below this ad
"Being home with the Steelers is the best. It's ideal just for me, you know. I think what really people didn't get to see a lot is later in my career, because I dealt with injuries, I played mainly slot. And coming back and playing outside more this year and showing people that can be a No. 1 and having Ben back healthy and me being healthy and just having the team that we have," Smith-Schuster said via NFL Network.
Not just the Ravens, Juju Smith-Schuster was also a wanted man in Missouri. With Sammy Watkins arriving in Baltimore, coach Andy Reid was keen on adding Juju to his roster.
A dream quarter of Patrick Mahomes, Tyreek Hill, Travis Kelce, and Smith-Schuster would terrorize defenses in 2021. But maybe some other time.
ADVERTISEMENT
Article continues below this ad