Lamar Jackson Wants This Ravens Star to Stay With Franchise for One More Year
Published 01/10/2022, 12:53 PM EST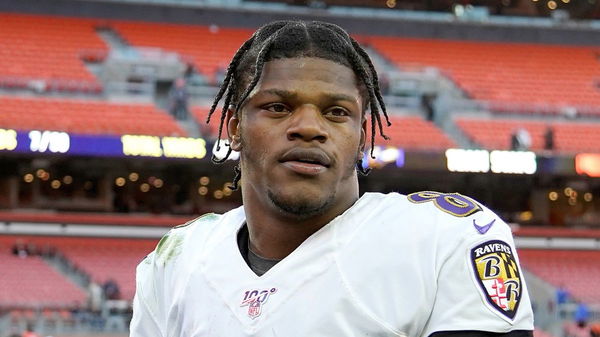 The Baltimore Ravens ended their season after a dramatic overtime defeat against the Ben Roethlisberger-led Pittsburgh Steelers. The game pretty much summed up the Ravens' 2021 season. And the unavailability of star quarterback Lamar Jackson deprived the Ravens of another crucial win.
For the Ravens, it was all a dark tunnel leading to the world of disappointment after Chris Boswell kicked the ball for a field goal in the overtime. The players seemingly were deeply hurt by the fact that their season was over then. It was hard to swallow for the franchise that they were 8-3 at one point of the season with the best record in the AFC with the playoffs well within their reach.
Players expressed their agitation in different ways. Safety Chuck Clark was seen storming to the for a post-game conference. But instead of taking up questions, he had just one statement to make. "As respectfully as I can say as possible, just watch how we bounce back," Clark said. "That's all I have to say." 
As for veteran defensive end Calais Campbell, who is on the verge of retirement, chose to stay on the field for a while and soak the moment before heading towards the locker room. It was surely not the end he was expecting. And while giving his post-game conference, he laid down all his emotions upfront.
Chuck Clark respectfully declined to answer postgame questions and instead took the podium with one clear message as the #Ravens enter their offseason:

"Just watch how we bounce back. That's all I gotta say." pic.twitter.com/i9soXun4Ii

— Bobby Trosset (@bobbywbal) January 9, 2022
Lamar Jackson wants Calais Campbell to stay
"I feel like we had our opportunities, we just didn't get it done," Campbell said. "That's the way the whole season has been–opportunity after opportunity and just missing it. There's a lot of fight in this team, a lot of heart. It's just tough when you give it that much effort and that much energy but you can't get it done. Those ones hurt the most." 
"I haven't been in this situation before, so I don't know," Campbell said. "I'd hate to end it this way, that's for sure. I guess very few people get to win the Super Bowl and run off into the sunset. I guess you're always going to be upset unless you won it all."
His reaction pointed to a potential retirement, which of course, would affect the Ravens. And so, in response, the quarterback Lamar Jackson tweeted to the veteran to stay "one more year." Although it was an unfortunate ending as the Ravens stumbled down big time while finishing the playoff race, Jackson aims higher for next season. And it's to be seen what he has for the Ravens in 2022.
Watch Stories: Dak Prescott breaks Tony Romos single-season TD pass record in Cowboys win over Eagles