Lamar Jackson Wants to 'Change the Narrative' Regarding Baltimore Ravens Heading into Playoffs
Published 01/09/2021, 11:47 AM EST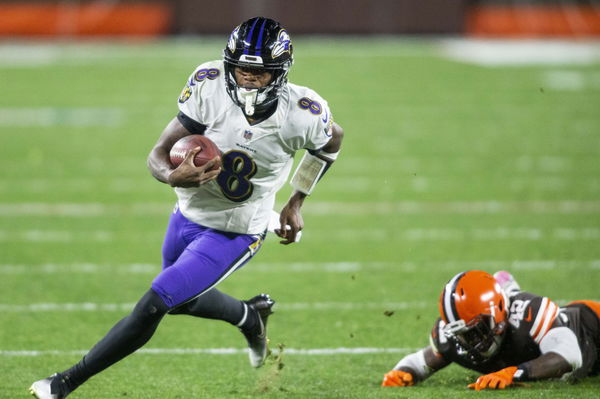 ---
---
Lamar Jackson is one of the best players in the NFL. The Baltimore Ravens' quarterback helped lead the Ravens to the Playoffs this season with an 11-5 record. What makes this run more impressive is that Jackson spent a good chunk of the season on the sidelines due to injuries.
ADVERTISEMENT
Article continues below this ad
Lamar Jackson spoke to ESPN ahead of the Ravens' playoff fixture against the Tennessee Titans. Jackson says that the team is focused on winning playoff games.
Additionally, that is their primary goal, along with changing the narrative around their team. "We can win playoff games… That's it… It is (goal number one). Change the narrative."
ADVERTISEMENT
Article continues below this ad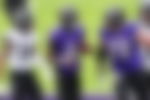 When pressed on what the narrative around the Ravens is, Jackson said it is that they cannot win playoff games. He discussed the team's previous playoff runs, especially in his rookie year. However, despite the doubts surrounding the team, they were able to reach the Playoffs. They just weren't able to win games.
Lamar Jackson ready to prove doubters wrong
Jackson used the example of last season to further explain the narrative. Despite the naysayers against them, the Ravens went 14-2 through the season.
He said, "I guess that is the biggest narrative right now, but like I said, some people wasn't thinking I would make it to the playoffs at all.
"Even my rookie season, I don't even remember the record when I started. But our team just came back and made the playoff run, we just got put out first." 
ADVERTISEMENT
Article continues below this ad
However, they weren't able to win the playoff game and were knocked out in the first round. Jackson wants to show everyone that the Ravens are capable of winning, and will not rest till they can.
"And we came back last year, people wasn't thinking we would have the season we had, finished 14-2, just got knocked out first round. The narrative is, 'They can't win playoff games'.
"So we just got to make that change, and when we do, they'll probably find something else to say. But it is what it is at that point because we did what they said we couldn't do."
ADVERTISEMENT
Article continues below this ad
Will the Ravens overcome their playoff luck and defeat the Titans? Jackson and Co. have a tough fixture against Tennessee, but if Jackson is in full form, the Ravens stand a strong chance of pulling a win over them.