Leading Analyst Calls Derrick Henry the LeBron James of the NFL
Published 04/07/2021, 8:01 PM EDT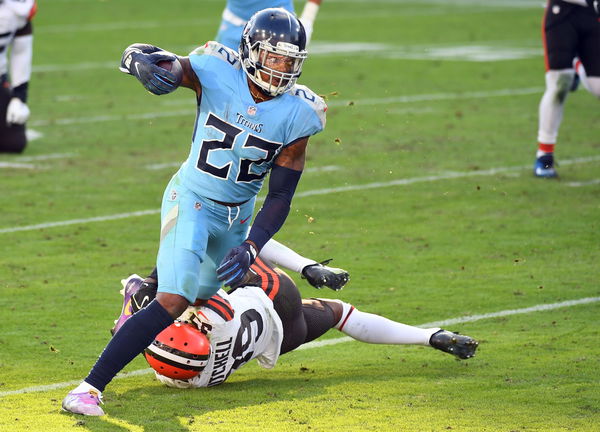 ---
---
Tennessee Titans and Derrick Henry enjoyed an epic season in 2020. Quarterback Ryan Tannehill impressed yet again as the Nashville-based outfit looked set to make the NFL Playoffs with relative ease. However, they were made to work hard and faced stiff competition from divisional rivals, Indianapolis Colts.
ADVERTISEMENT
Article continues below this ad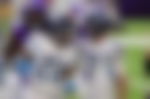 At the conclusion of the regular season, the Titans finished at the top of the AFC South table with an 11-5 record. But they suffered an early exit in post-season at the hands of Lamar Jackson-led Baltimore Ravens. But nevertheless, Mike Vrabel's boys did enough to convince the NFL faithful that this is a team on the rise.
ADVERTISEMENT
Article continues below this ad
But their standout performer, without a doubt, was star running back Derrick Henry.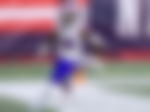 Derrick Henry compared to Los Angeles Lakers superstar LeBron James
2016 2nd-round pick (45th overall) Derrick Henry has arguably been the best RB in the league over the last two consecutive years. In the absence of Saquon Barkley, Henry rushed for a record-setting 2,027 yards with 17 rushing TDs in 2020. He was just the 8th player to cross the 2k landmark in the NFL.
He also bagged the NFL Offensive Player of the Year award last season. Leading sports analyst, Nick Wright, did not hold back while complimenting Henry. He even went on to compare him with 4-time NBA Champions and LA Lakers superstar, LeBron James.
He said, "If there is a man in the NFL who has attained in my eyes at his position (which is) LeBron James status, which means he is the best until someone dethrones him."
ADVERTISEMENT
Article continues below this ad
"And that is King Henry. Derrick Henry is the best, so I don't want to hear going into the year….I don't want to hear anything. The best running back? It's Derrick Henry," Wright said on the latest segment of First Things First.
Of course, we must forgive Wright for slight exaggeration. King Henry might not exactly be on the same level as King James is right now, but he certainly can get there in the near future.
In 48 starts since 2016, Henry has rushed for 5,860 yards with 55 rushing touchdowns. He has shown no signs of slowing down in recent years. Just like fine wine, we expect him to get better with time. Keep an eye out for this dangerous athlete when the season starts in September.
ADVERTISEMENT
Article continues below this ad