"Let 'Er Rip, Josh Allen" – NFL Analyst Urges Quarterback to Continue Playing Like he is Now
Published 06/12/2020, 4:54 PM EDT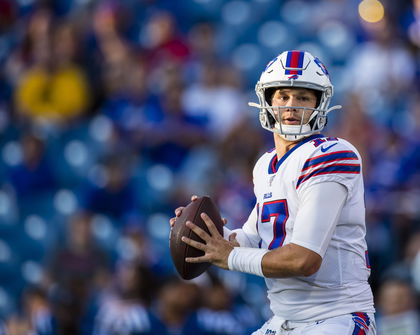 ---
---
Recently, NFL analyst Kyle Brandt spoke about Buffalo Bills quarterback, Josh Allen. Allen declared earlier that he would not be 'kept in check' this season. However, some feel that the 24-year-old should check the ball down more often. Last year, the quarterback threw nine interceptions, while Deshaun Watson threw 12 and Jimmy Garoppolo threw 13.
ADVERTISEMENT
Article continues below this ad
Interestingly, 7 of Allen's interceptions came within the first five weeks. Brandt admitted that he often compared Allen to Johnny Knox, owing to his fearlessness. However, a key difference was that Knox later took a backseat and allowed his teammates to do the donkey work. On the other end of the scale, Allen is continuing to improve, so Brandt simply said, "Let 'er rip, Josh Allen."
ADVERTISEMENT
Article continues below this ad
ADVERTISEMENT
Article continues below this ad
What else is there to know about Josh Allen?
Allen has become the latest supporter of the Black Lives Matter Movement. He said, "I think this country is going to come out of this as a better country, and we're gonna continue to learn and grow. As far as racial injustices, there's no room for racism. At the end of the day, everybody kind of has their own opinion, but as people, we have our opinion and our rights to let them know that they're wrong."
Allen confessed that he can't fully understand being in a person of color in America. However, he insisted that he values their experiences and point of views. He even commented on an incident in Western New York. During some protests across the area, a video surfaced and did the rounds on social media. Apparently, Buffalo Police were caught pushing down a 75-year-old man and leaving him unconscious.
ADVERTISEMENT
Article continues below this ad
He concluded, "I do stand with the black community, especially my teammates here. I got a lot of love for our guys."