"Let's Go Build A Dynasty" – Patrick Mahomes-led Kansas City Chiefs Eager To Take Over The NFL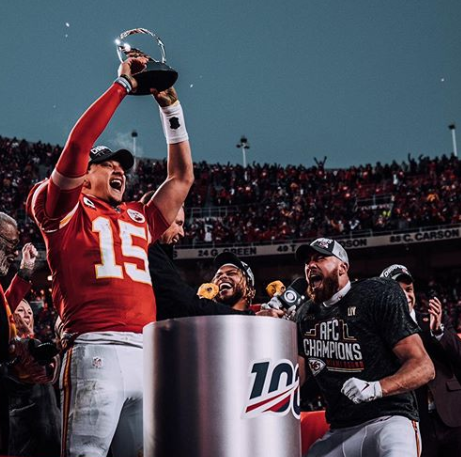 It's going to be a peculiar season for NFL teams and their massive fanbase. The ongoing Coronavirus pandemic has forced teams to delay pre-season prep for all 32 NFL teams. Several league players trained individually by themselves over the last couple of weeks.
Additionally, NFL 2020 draft picks have not gotten the chance to meet their teammates and settle in properly at their respective franchises.
There are also certain players (Dak Prescott, Deshaun Watson) who have been embroiled in contract talks with the NFL team owners.
Amidst all this uncertainty, Kansas City Chiefs took the NFL world by surprise on Monday. As reported first by NFL insider Adam Schefter, the Chiefs announced that star quarterback, Patrick Mahomes, has agreed to a 10-year contract extension.
The deal (which is rumoured to be in the $500 million ballpark) will ensure that Mahomes remains in Kansas till 2031, at the very least.
But from a wider perspective, what do the Chiefs hope to achieve by this bumper deal?
ALSO READ- "Patrick Mahomes Contract Is A Team-Friendly Deal"- NFL Insider Offers Different Perspective On Historic 10-year Offer
Kansas City Chiefs and Pat Mahomes eager to dominate the NFL
In the NFL, a team is only as good as their quarterback. You can have the best wideouts, a strong defence, and a flawless special team. But if your starting quarterback fails to perform consistently, then your team will be labelled a 'failure'.
Let's go build a dynasty. pic.twitter.com/tUr1QaHV7r

— Kansas City Chiefs (@Chiefs) July 7, 2020
There's no doubt that Mahomes was the Chiefs' player of the season in 2019. In fact, he's been their star performer since 2018.
Pat joined the Chiefs in 2017 and started his rookie year as a backup to the starting QB, Alex Smtih. Smith was then traded to Washington Redskins the following year.
In his first full season as a starter with the Chiefs, Mahomes was elected NFL MVP 2018. It was a record-setting season for the Texas-born athlete. Mahomes threw for 5,000+ yards that season and registered 50 TDs.
In doing so, he became only the second player to achieve that feat after the legendary Peyton Manning.
ALSO READ- "We'll find out who he is" – Cincinnati Bengals Offensive Coordinator Gives a Fitting Response of Joe Burrow's Comparison with Patrick Mahomes
Patrick Mahomes destined for greatness?
Mahomes' 2019 season was not as good as the year before. However, he did lead the Chiefs to a Super Bowl title. He orchestrated a stunning comeback against the 49ers to win Kansas their first Super Bowl title in the last 50 years.
Before 2019, the Chiefs last won the coveted title in 1970 when they defeated Minnesota Vikings in Super Bowl IV.
Kansas City, we're just getting started. This is home. 📍⏰ pic.twitter.com/9a1WMO6ra2

— Patrick Mahomes II (@PatrickMahomes) July 8, 2020
Patrick Mahomes' new 10-year contract is a clear statement by the Chiefs. They are attempting to do what the Patriots did with Robert Kraft, Tom Brady and Bill Belichick, over the last two decades.
The Chiefs want to build an empire of their own and they see Patrick 'Showtime' Mahomes as the perfect man to do to the job.