'Let's Talk About Life' – DK Metcalf Issues Strange Statement After Seattle Seahawks' Fifth Loss
Published 10/27/2021, 8:45 AM EDT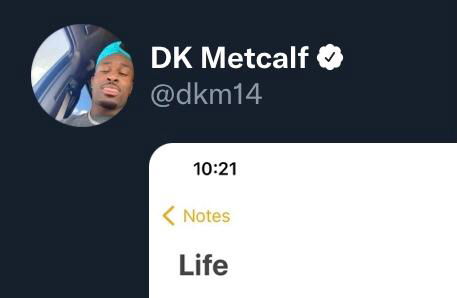 ---
---
Seattle Seahawks wide receiver DK Metcalf will surely be in a sorrowful and pensive state after suffering five losses so far this season. Metcalf will surely rant about his fortune, as even though he delivered a tremendous 84-yard touchdown run, the Seahawks failed to register a win against the Saints.
ADVERTISEMENT
Article continues below this ad
However, the 23-year-old receiver took his thoughtful temperament to the next level as he decided to tweet a note on "Life". He started off by alluding to the time 'God' has given him to prove his abilities in the field, which is just 12 rounds and four quarters in a game.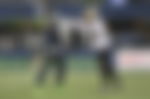 DK Metcalf appreciates Life
ADVERTISEMENT
Article continues below this ad
His brief note took a dramatic turn when he suddenly talked about his interaction with a cancer patient. And how he chooses to be happy and joyful, despite his clock of life running down of time. And so Metcalf wrote a note to show people that there is a lesson to be learned here.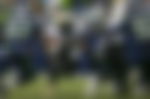 "I met someone with bone cancer and his shot clock is running down," he wrote. "But I couldn't tell, because he had a smile on his face! He was living in the moment and not thinking about tomorrow or yesterday. Meeting him opened my eyes even more to the world we live in today." 
Metcalf will get back up again tomorrow
ADVERTISEMENT
Article continues below this ad
Talking of Metcalf, he has had a rough season so far, especially with Russell gone the team is going through a three-game losing streak. Even though their previous two games against the Steelers and Saints have been close encounters, and the failure of the team to deliver at the very end of the game led them to lose.
However, Metcalf emphasizes "to live for today and genuinely be happy for the opportunity we get to wake up every morning and choose to be happy." His optimistic vision delivers an impression that the receiver will go all-in for his game against the Jaguars next week.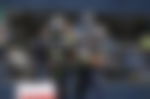 And with that beautiful and encouraging note shared by him, he concluded with an even more beautiful notion of adopting a habit of giving compliments. It is surely a surprise to see the level of enlightenment the youngster has gone through, and his efforts to encourage such divine knowledge are well appreciated.
ADVERTISEMENT
Article continues below this ad