DOPE! Jalen Ramsey's New Cleats Inspired by Kanye West's DONDA Is a Piece of Art
Published 10/24/2021, 8:54 AM EDT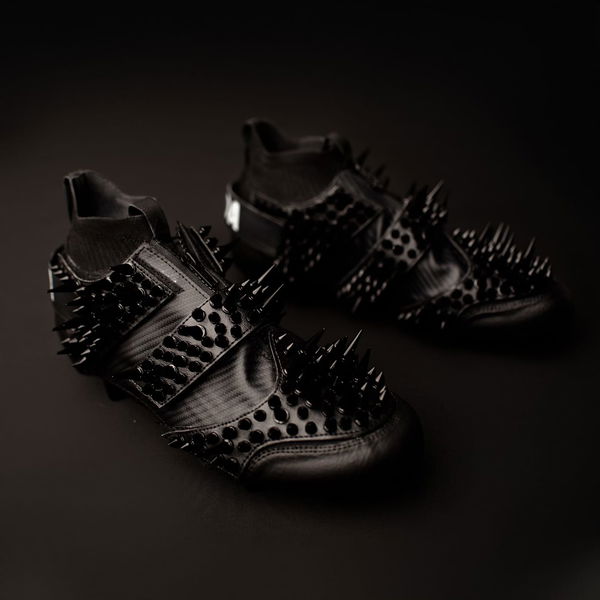 ---
---
Jalen Ramsey is one of the best cornerbacks in the NFL but if there is one thing you cannot disagree with is his drip. Ramsey is undisputedly one of the most stylish players in the game. His cleats are a testament to this claim. Jalen Ramsey is known to wear the funkiest cleats in the game.
ADVERTISEMENT
Article continues below this ad
Be it the customized Yeezy Boost 500 or LeBron James-inspired "Arthur Fist" cleats, the man knows his style. Recently, Ramsey collaborated yet again with popular cleat designer KotaKustoms for new cleats inspired by Kanye West's latest album DONDA.
ADVERTISEMENT
Article continues below this ad
Jalen Ramsey x KotaKustoms
KotaKustoms is arguably the best sneaker design artist in the country. His work has been featured by players in the NFL, NBA, and MLB – a testament to his quality. Los Angeles Rams star Jalen Ramsey has been collaborating with KotaKustoms for some time now. Their most recent collaboration includes the customization of Yeezy Boost 500.
The white Yeezy, made with microsuede, white lambskin, and mesh foam, is a work of art. Given Kanye's preference for neutral tones, many of the Yeezy shoes provide the chance to create a completely different aesthetic by just adding brilliant colors to the shape. But Ramsey's shoes here keep it simple here, which has its own charm.
View this post on Instagram
Kanye West's DONDA inspired cleats
After their last successful collaboration on the Yeezy 500, KotaKustoms and Jalen Ramsey are back yet again. This time, Ramsey gets his new cleats based on Kanye West's DONDA. According to Kota, the hybrid "DONDA" cleat for Jalen Ramsey has been reconstructed and customized in its entirety.
ADVERTISEMENT
Article continues below this ad
The cleats feature '3 interchangeable velcro pieces made for pre-game and game time'. It means that the spikes are attached to a velcro piece, which can be removed as and when required. Before playing, Ramsey can have the velcro and spikes on to flex. And while playing, he can remove the velcro to not get penalized before the first quarter of the game!
ADVERTISEMENT
Article continues below this ad
All in all, Jalen Ramsey's new cleats look absolutely stunning. The cleats have been lapped up by fans all over, and props must be given to the designer to bring this collaboration to life. Kudos!