Los Angeles Rams' Newest Acquisition Odell Beckham Jr Joins Crypto Craze in Insane Fashion
Published 11/23/2021, 4:10 AM EST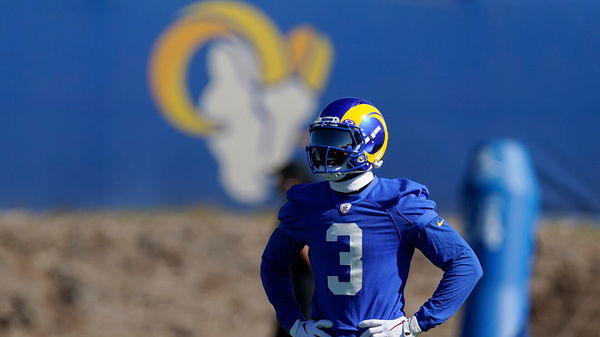 ---
---
Cryptocurrency has become all the rage these days. Everyone wants to get in on the action. Buying and selling crypto coins has become the new and easy way to be rich. It could work out for you if you have the appropriate knowledge required to work in the current market. Now, Odell Beckham Jr has gotten into the game.
ADVERTISEMENT
Article continues below this ad
Odell Beckham Jr will receive his salary in Bitcoin
Beckham joined the Los Angeles Rams from the Cleveland Browns for one year on a contract worth $4.25 million. He will receive a new salary from the club.
ADVERTISEMENT
Article continues below this ad
Odell Beckham Jr is an enthusiast of cryptocurrency. On Monday he tweeted he has joined forces with Cash App and will take 100% of his new NFL contract in Bitcoin. In the video he tweeted to make the announcement, Beckham said, "It's the start of a new era, and I'm looking forward to the future," he adds, "That's why I'm taking my new salary in Bitcoin, thanks to Cash App."
OBJ will give $1 million worth of Bitcoin to his fans on Twitter as a thank you. 
It's a NEW ERA & to kick that off I'm hyped to announce that I'm taking my new salary in bitcoin thanks to @CashApp. To ALL MY FANS out there, no matter where u r: THANK YOU! I'm giving back a total of $1M in BTC rn too. Drop your $cashtag w. #OBJBTC & follow @CashApp NOW pic.twitter.com/ds1IgZ1zup

— Odell Beckham Jr (@obj) November 22, 2021
Cash App allows its users to invest in the stock market, send and receive money. It allows them to buy and sell Bitcoin. This is where OBJ will get his new paychecks. 
Crypto is taking over the NFL
Earlier this month, Aaron Rodgers, the star quarterback of the Green Bay Packers, announced his partnership with the Cash App. But the difference between his deal and Odell Beckham Jr's deal is that Rodgers will only receive a part of his salary in Bitcoin. Except for the sum, he will take his salary from the Packers in cash.  
ADVERTISEMENT
Article continues below this ad
"I'm excited about the future of cryptocurrency, and am a big believer in Bitcoin. So much so that I've chosen to take a large portion of my salary in Bitcoin, thanks to the help of Cash App," said Rodgers, who believes that Bitcoin is the future. 
Tampa Bay Buccaneers star and NFL legend Tom Brady has also recently announced that he has always purchased a stake in the cryptocurrency trading platform, FTX. 
ADVERTISEMENT
Article continues below this ad
Several other NFL players are also taking a portion of their salaries in Bitcoin. Players such as New York Giants running back Saquon Barkley. Jacksonville Jaguars quarterback Trevor Laurance and many others.