Los Angeles Rams WR Cooper Kupp Leaves the NFL Twitter Cracking on His Football Fluency
Published 12/08/2021, 4:25 PM EST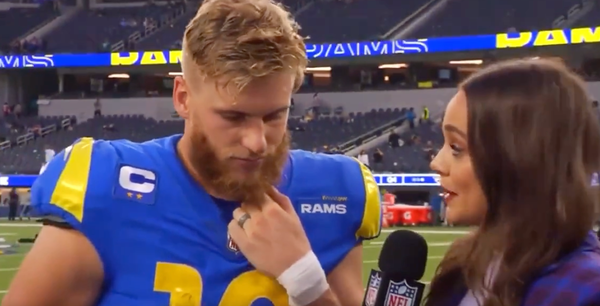 Cooper Kupp is having one blast of a season with the Los Angeles Rams. This year, he became the first receiver to surpass 100 catches. He also has the most receiving yards and touchdowns in the league.
Throughout his career, Kupp has displayed a quarterback-like ability to read defensive plans and exploit them. And in the most complicated interview response you'll ever see, he put that expertise on show.
ADVERTISEMENT
Article continues below this ad
Cooper was the leading receiver during the Week 13 matchup between Los Angeles Rams and the Jacksonville Jaguars. The Rams registered their first win in their last four games and Cooper caught eight passes for 129 yards and a touchdown with an average of 16.1 yards per reception.
Cooper Kupp listing the technicalities of the play
Kupp spoke with NFL Network's Bridget Condon after the Rams' 37-7 victory against the Jaguars on Sunday at the SoFi Stadium. On his 29-yard touchdown reception which came in the third quarter, he was asked just what he observed.
"Yeah, they had a little, three-deep fire zone," Cooper replied confidently. "Brought the nickel off the edge, safety dropped down. They didn't look like they were doing a replacement fire zone, so I knew with the back away, we were going to get three pushing through that had an opportunity to kind of run there if I could beat my guy, just had to beat the safety to the end zone."
That reply from Cooper left the Twitteratis baffled. No one, literally no one even some football analysts was unable to understand the technical language uttered by the receiver in one go. This left Twitter cracking jokes in the most hilarious ways possible.
ADVERTISEMENT
Article continues below this ad
ADVERTISEMENT
Article continues below this ad
It's true that there's a lot of jargon. But it also reveals what's on Kupp's mind during a particular play. The response was also well received by the audience. Furthermore, it just reflects upon the football IQ that the 28-year-old possesses.