Rams WR Van Jefferson Performs Unusual Gesture for his Dad After Beating Him in Week 14
Published 12/15/2021, 6:09 AM EST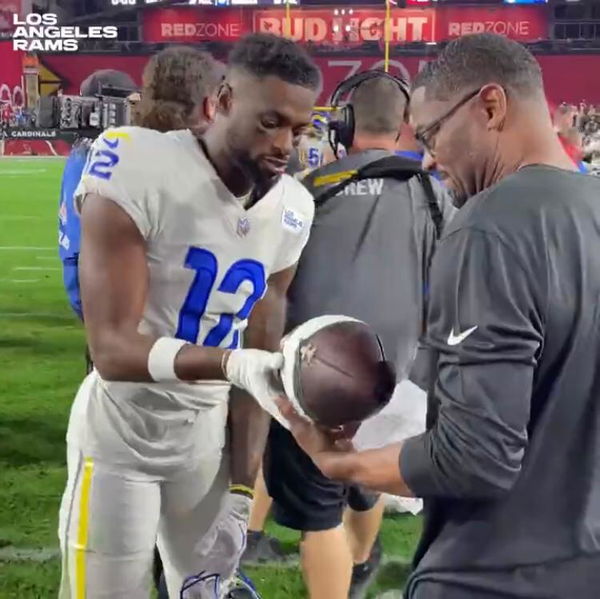 ---
---
Van Jefferson broke loose with a 52-yard touchdown in the third quarter of the Rams' 30-23 triumph over the Arizona Cardinals. The wide receiver's father was in the stands as he made an impressive run Monday night. Unfortunately, his stand was the Cardinals' sideline since his father Shawn Jefferson is the wide receiver coach of Arizona.
The look on Van's father's face was precious, as it was the first time a parent had frowned upon his kids' great sporting feat. Since Jefferson led his team to victory against his father's team. And that was something very amusing to see. Although what was even more amusing to see was that Van Jefferson handed the game ball to his father after avenging his Week 4 loss to the Cardinals.
Jefferson caught two catches for 58 yards and a score in the victory, continuing his impressive second season in the NFL. That was a wonderful moment, but if Shawn's family gets time to get together this Christmas season, he won't be happy to hear about any of the Rams' victories against Arizona.
Van Jefferson and Shawn Jefferson have own rivalry going on
He's a ferocious coach. He said when he was hired in the summer that he couldn't care less about his son's achievement when their division rival teams faced off. Furthermore, his father is still 2-1 against him after serving as a member of the Jets' coaching staff during the team's late-season upset of the Rams.
"I'm looking forward to kicking his butt twice a year," Shawn said in February. "That's what I'm looking forward to, more than anything. It'll be good just to see him play. We get on that field, I want to kick his butt in every way possible — I'm a competitor and he is too, but I'd love nothing more than to have those bragging rights every season of kicking his butt twice a year."
It's clearly a 'healthy' competition between the father-son duo. But it's even more fascinating to see the two share such a unique relationship. Although it will be fun to see how long their personal rivalries go.