'Mac Claus': Patriots QB Mac Jones Surprises O-Linemen With Christmas Gifts Including Bitcoin
Published 12/26/2021, 9:10 AM EST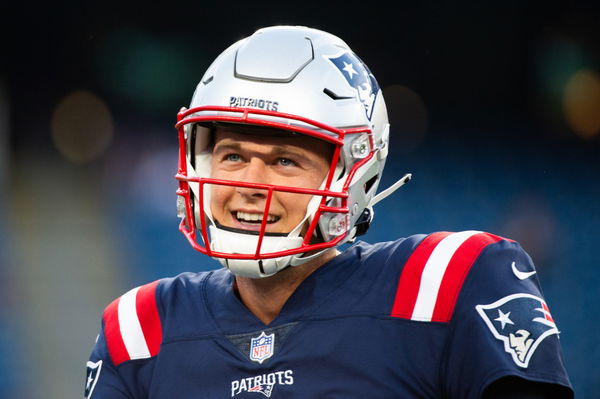 ---
---
Christmas is the season for giving gifts. We celebrate this time of the year with our friends and family. Everybody exchanges gifts. But someone who knows how to give the best gifts is none other than Mac Jones. The New England Patriots rookie quarterback went above and beyond to impress his offensive linemen this year. 'Mac Claus' surprised the O-linemen with his amazing gifting skills. With his unique catalog of gifts, including Bitcoin, Jones won the hearts of his teammates and staff. The rookie made this Christmas special for the people closest to him. The Patriots will remember his Christmas for a long time. 
ADVERTISEMENT
Article continues below this ad
Mac Claus' gifting ability
ADVERTISEMENT
Article continues below this ad
For the Patriots, Christmas came early this year. On Friday, Mac Jones transformed into 'Mac Clause' as he came bearing gifts after practice. The New England Patriots veteran center Ted Karras is very impressed with Jones and his gifts. In the video press conference, he said, "He did an outstanding job. We got a big haul over here," Karras continues, "I'll let him explain everything that he got, but it's a myriad of items, each one cooler than the next." It seems like Jones knew what to get everyone, and he brought a whole list of items. "One of the best efforts, especially by a rookie, to show appreciation and wish us a Merry Christmas," Ted said. "So, very thankful to him and very glad to be his teammate here in this Christmas season." 
ADVERTISEMENT
Article continues below this ad
That list of items also includes Bitcoins for all of his offensive linemen. Everyone at the New England Patriots had a very merry Christmas courtesy of Mac Jones.
Mac Jones' outstanding season
ADVERTISEMENT
Article continues below this ad
Mac Jones is impressive at giving gifts, just like he is impressive on the field. Jones has far exceeded everyone's expectations in his rookie season. Mac has decimated the records of veteran Cam Newton. Jones stands third in the NFL with a nice record of 69% passing completion for 3,168 yards. In the 14 games he played with the Patriots, he led them to a 9-5 record. With his great gift-giving abilities and presence on the field, Mac Jones is here to stay. The sky is the only limit for the rookie. He still has a long way to go with the Patriots.