Mac Jones Gets Brutally Honest About His 'Unacceptable' Performance Against Indianapolis Colts
Published 12/19/2021, 7:48 AM EST
---
---
Mac Jones did not have the best showing of his career last night. After the game, Jones got brutally honest about his terrible performance. New England Patriots fans are very disappointed after losing to the Indianapolis Colts in Week 15.
ADVERTISEMENT
Article continues below this ad
The game was very entertaining unless you are a New England fan. The Patriots are frustrated after losing. The match ended with a score of 27-17.  Everyone on the Colts' side played an incredible game of football. Especially the defense. They defeated the Patriots by 10 points.
Mac Jones flop against the Indianapolis Colts
ADVERTISEMENT
Article continues below this ad
When the game started, the Patriots seemed optimistic. Jones even made a first-down run in the opening minutes of the first quarter. But not long after, the Colts defensive tackle DeForest Buckner sacked him. The Patriots could not recover from it. The Colts Nyheim Hines scored a touchdown which put them in the lead.
New England looked shaken up because Jones could not complete the passage towards the end of the first quarter. The wide receiver Jakobi Meyers dropped the ball. With just 21 seconds left on the clock, Jake Bailey tried to punt the ball. It was intercepted, and the ball was free. The Colts recovered the ball for a touchdown. E. J. Speed lived up to his last name and recovered the ball in a heartbeat.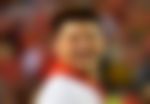 The second quarter is where it all came undone for Mac Jones and the Patriots. Deep inside the second quarter, Jones threw the ball hoping to find Hunter Henry, but Colts linebacker Darius Leonard intercepted it. It visibly upset the quarterback as he grabbed his helmet in frustration. 
ADVERTISEMENT
Article continues below this ad
Jones talks about his performance after the game
Two more quarters after the interception, the Patriots lost 27-17. Jones was frustrated with his poor performance. In the post-match press conference, he said, "I just threw it right to him. It was a good play, but unacceptable. You can't win until you stop from losing." Jones adds, "I mean, I handed the ball to the guy. I did that twice, and that hurt us. I thought the defense played pretty well, and I just shot them in the foot myself by giving them the short field and giving them the ball. That's just my fault, and I'll learn from it." 
ADVERTISEMENT
Article continues below this ad
Mac Jones is not the type of player who will shy away from a poor performance. Let's see if he will learn from his mistakes and come back stronger than before.