Mac Jones Tipped to Join THIS AFC East Franchise ahead of 2021 NFL Draft
Published 03/26/2021, 3:33 PM EDT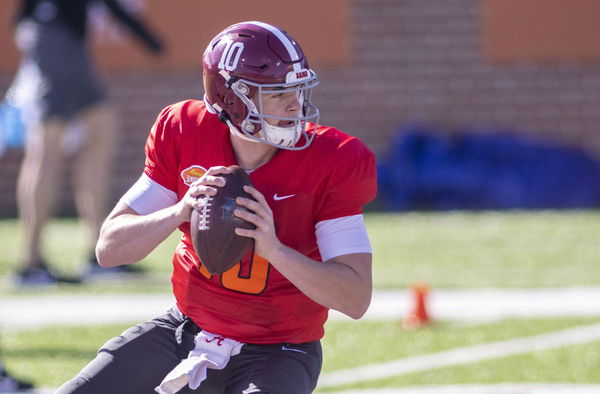 ---
---
Legendary college football Head Coach Nick Saban led the Alabama Crimson Tide Football team to their 6th National Championship win earlier this year. This was his 7th win as Head Coach.
ADVERTISEMENT
Article continues below this ad
All eyes were on Heisman Trophy-winning wide receiver De'Vonta Smith, who had a record-setting year in 2020. But another Alabama star who impressed was starting quarterback Mac Jones.
The 22-year-old was one of the leading lights for Alabama as they defeated Ohio State in the CFP National Championship final in 2021.
ADVERTISEMENT
Article continues below this ad
He threw for 4,500 passing yards with 41 passing TDs against 4 interceptions. He was also a Heisman Trophy finalist along with Smith and RB Najee Harris.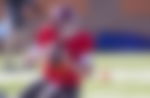 Analyst confident that Mac Jones will go in the 1st round of 2021 NFL Draft
Former NFL quarterback-turned-analyst Chris Simms featured on the latest segment of ProFootballTalk alongside host Mike Florio.
The Denver Broncos and Tennessee Titans shot-caller singled out Mac Jones for special praise after the latter put up a decent show at the Alabama Pro Day.
He replied, "He's going in round one. I mean, I don't know what anybody can even be thinking there. I'd be shocked if it's not in the Top-15.
"I would be shocked. Listen, if he fell to New England at 15, they're going to take him. If he's there at 15, he is their kinda guy.
"You know, you've heard all those Brady references and everything like that. First off, I think the negatives that people are trying to talk about Mac Jones, you know, it's phantom bullcrap is what I really wanna say. It's over-analyzation….
"His feet are phenomenal in the pocket. I mean, they're incredibly quick. They're better than Sam Darnold's were coming out of the draft or Daniel Jones or Matt Ryan, Kirk Cousins, or Derek Carr.
"The throwing is flawless, just flawless. If you watched the workout at all, it's like he has a magnet to the receiver's chest and chin area. Every ball is like 'BOOM' on the money, except one or two," Simms said on the show.
ADVERTISEMENT
Article continues below this ad
The Florida-born athlete is reportedly being scouted by the likes of the Carolina Panthers, San Francisco 49ers and Chicago Bears ahead of the 2021 NFL Draft.
It will be interesting to see if coach Bill Belichick can bring in a young QB to challenge veteran Cam Newton in 2021.
With comparisons being made to the legendary Tom Brady, surely the future is bright for Mac Jones? Tell us what you think in the comments below.
ADVERTISEMENT
Article continues below this ad