Mark Andrews' Older Brother Gives Him a Cute Shoutout Ahead of Pro Bowl Voting
Published 12/16/2021, 8:09 AM EST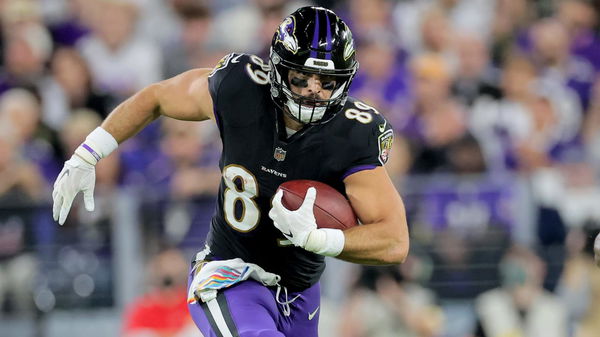 ---
---
As the festivities approach and families come together to bond, we glimpsed a little demonstration of it on Twitter. Recently we saw Baltimore Ravens tight end Mark Andrews' big brother give him a Pro Bowl shout-out on Twitter. Jack Andrews is on a mission to get his younger brother the most Pro Bowl votes.
ADVERTISEMENT
Article continues below this ad
We have reached the wonderful time of the year. Every year towards the end of December, everyone is preparing for Christmas. However, football fans are excited for another reason.
Mark Andrews phenomenal season
ADVERTISEMENT
Article continues below this ad
As the weather cools down, the voting for the season heats up. Fans log on to Twitter to retweet and vote for their favorite players. The NFL gives many types of awards out every year. There are offensive MVP of the year, defensive MVP of the year, offensive and defensive rookie of the year, respectively, and many more. One of these awards is the Pro Bowl. 
Pro Bowl is the award Jack Andrews wants to get his younger brother. And many people agree with this choice. Mark Andrews has had a really great 2021 season with the Baltimore Ravens. He currently leads the NFL tight ends in catching yards. Andrew has 926 receiving yards. He owns the Ravens record for the most receiving yards by a tight end in a single season. He surpassed Todd Heap, who set the previous record for the franchise with 855 yards in 2005. Mark has completed 75 catches, and currently, he is the best tight end in the NFL. 
Jack Andrews' campaign for his brother
ADVERTISEMENT
Article continues below this ad
The older Andrews' brother took to Twitter to help his younger brother get some votes. Jack tweeted, "Every RT = 2 Probowl Votes," He asked his followers to, "RETWEET to send my little brother back the NFL Pro Bowl. He currently leads all NFL tight ends in catches and yards."
ADVERTISEMENT
Article continues below this ad
Maybe this was the last boost Mark Andrews needed to win the Pro Bowl this season. Jack is determined to get his brother the award. It is an exciting time to be a football fan. Twitter is blowing up these days with votes and retweets.