Marshawn Lynch Drops F-Bomb on Manningcast; Peyton Manning Forced to Apologize
Published 10/26/2021, 4:09 AM EDT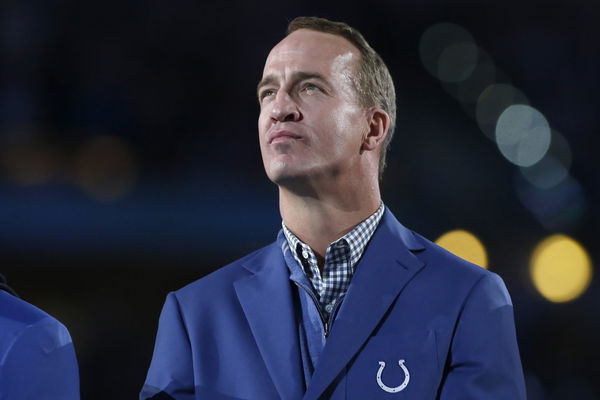 ---
---
ESPN's Manningcast returned for the Monday Night Football game between Seattle Seahawks and New Orleans Saints. And their impromptu cast with the former NFL running back Marshawn Lynch, produced yet another inappropriate sequence live on national television. And again, Peyton Manning issued an apology.
ADVERTISEMENT
Article continues below this ad
Their first guest of the show, Marshawn Lynch, dropped the F-bomb in the first quarter of the game. The ESPN2 broadcast went into a commercial break right away and Lynch was no longer a part of the candid show after that. Peyton Manning later apologized for the inappropriate "slip" by Lynch.
ADVERTISEMENT
Article continues below this ad
Marshawn Lynch cuts loose his profanity
The Saints were trailing 0-7 to the Seahawks, with the ball in possession with the Geno Smith led offense. And so after an absurd play by the Seahawks, the Beast Mode called for trouble when he accidentally slipped, "Bro, what the f*ck?" on national television.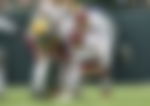 However, this was not just it. Earlier Lynch logged in to the show eating snacks, and saying, "what's up big dogs," and revealing that he took three shots of Hennessy before the game. Judging by his lack of prudence, the broadcast had to cut him off after he dropped the big F-bomb.
Peyton Manning reminds Eli what Manningcast is all about
ADVERTISEMENT
Article continues below this ad
After the unanticipated commercial break, Peyton Manning was forced to apologize for the unethical display of his guest, live. "I wanna thank Marshawn Lynch, not as wild about the language. I want to apologize to our viewers for some of the language. It's not what we're trying to do on this show," Manning said. "I had to remind Eli this show is live. So Eli's learned his lesson, Marshawn. I probably should have handled him. Anyways, we apologize for that."
ADVERTISEMENT
Article continues below this ad
Although Lynch doesn't require that liquid courage to utter what's in his mind. However, those Hennessey shots might have played some role in his impromptu cussing live on camera. Although he later realized his inappropriate profanity, as he was seen covering his mouth right after it slipped off his mouth.