Massive Blunder Concludes Peyton Manning's Nephew Arch Manning's High School Career Resulting in a Disappointing Blowout Loss
Published 11/27/2022, 6:00 AM EST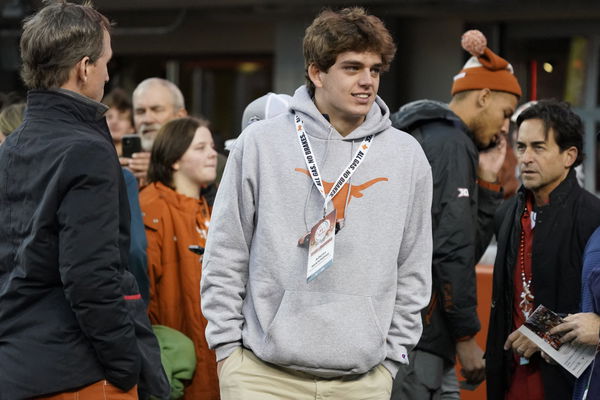 The Manning household has a profound influence on the game. After Eli and Peyton Manning ran rampant in the game, the next generation is also in line. Arch Manning is setting foot into the next level. However, he did not have a ceremonious exit to his high school career when a blunder ended his final game in a blowout loss.
The University High of Baton Rouge went against Isidore Newman in the D-III quarterfinals. Eli and Peyton Manning's nephew tried to deliver a tough fight to the opposition but failed to do so. It's safe to say that this was not the ending Arch Manning had in his psyche before moving to Texas.
ADVERTISEMENT
Article continues below this ad
University High ended the high school football career of Arch Manning after defeating Newman 49-13 at Michael Lupin Field. He suffered an epic blunder in the fourth quarter when U-High's Marcus Dawson intercepted Manning's pass and returned 100 yards for a touchdown.
As per TotalProSports, Manning completed 8 of 21 passes for 96 yards, two interceptions, and one fumble. In the fourth quarter, he also had one INT and one fumble return for a touchdown. Newman's only touchdown came after the defense intercepted a pass and put the offensive line on the 3-yard line for a score.
It was one of Arch Manning's leading blowout losses and had a grim conclusion to his high school career. But the five-star QB could develop his craft while with the Texas Longhorns. One game cannot decide his fate, and he could take the legacy of his bloodline forward in the upcoming years.
Arch Manning gets the skills from his grandfather
Arch Manning has had all the attention since his high school days. With him taking the family legacy forward, all eyes are on the five-star QB. The third-generation QB had his uncles and grandfathers in the most reputed gridiron leagues. With him next in line, many fans might wonder from whom he takes inspiration in the bloodline. Eli Manning clarified their nephew takes more of their father, Saints legend Archie Manning's style in the game.
ADVERTISEMENT
Article continues below this ad
As per New York Post, Eli Manning mentioned, "He's more athletic than Peyton or I. Maybe a little bit bigger than Peyton or I, and so I think he's got the ability to scramble around and run around — probably more similar to my dad (Archie) than Peyton or I."
ADVERTISEMENT
Article continues below this ad
Young Manning could become the next scrambling QB in the game, just like his grandfather.
Watch This Story: NBA World gives massive shoutout to Lamar Jackson and asks Baltimore Ravens to break the bank for unanimous MVP
Edited By: Gurjyot Singh Dadial