Miami Dolphins Head Coach Clarifies Where Tua Tagovailoa's Arm Strength Stands compared to Tyreek Hill's Super Speed
Published 06/03/2022, 8:30 AM EDT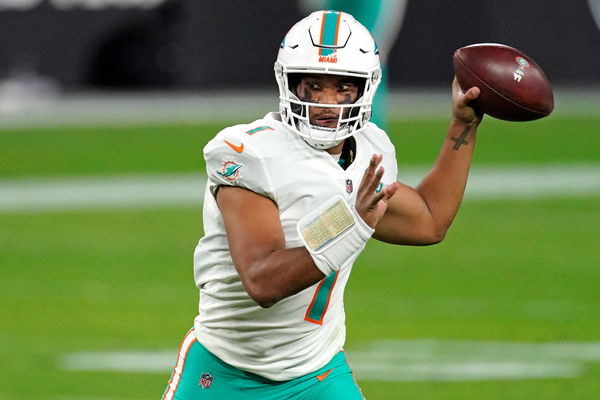 Miami Dolphins Head Coach Mike McDaniel has come forward to support the Dolphins quarterback Tua Tagovailoa. Tua has been questioned about his arm strength and deep passing ability. Mike clarified the issue in the press conference and gave a practical difference between 55 and 85-yard arm strength.
McDaniel, while speaking about Tua, said, "I think he might've had a 55-yarder today, but that's why you hear no cause for concern at all from the players, because they know that, too. He's plenty fast and the great thing is he sees the field." 
ADVERTISEMENT
Article continues below this ad
Recently, at minicamp practice matches, Tua threw two long completions to the speedy wide receiver Tyreek Hill. After which, he gave a fitting reply to all his critics, who usually doubt his arm strength. 
Mike McDaniel with a thoughtful answer on most prevalent question about Tua Tagovailoa — can he throw the deep ball well enough to maximize Tyreek Hill/Jaylen Waddle?

A discussion on practical football difference between 55 and 85 yard arm strength. pic.twitter.com/JrPADa43iG

— Cameron Wolfe (@CameronWolfe) June 2, 2022
Tua said, "I don't know if I could throw the ball downfield still, but by my account, I think that might have been a touchdown to Tyreek." Tua also stated if anyone should write about it on social media, then they should. During the practice sessions, Tagovailoa made two highlight passes to Tyreek Hill. The first pass traveled 55 yards and was a touchdown and the second throw went for 56 yards.
Mike McDaniel says Tua Tagovailoa has strong arms to complete long passes
ADVERTISEMENT
Article continues below this ad
McDaniel on Tua's performance said, "He's not throwing the ball 85 yards, but I don't see the practical application of an 85-yard thrower unless you have the best offensive line in the history of football. And the defensive is poor to add on rushers when you're maxing protected."
The head coach of the Miami Dolphins is quite happy with Tua Tagovailoa's performance and he thinks he will match up with the speed of Tyreek Hill. He made it clear that throwing an 85-yard is not necessary. Moreover, Mike added that Tua's arm is quite strong to complete long passes.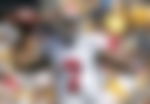 ADVERTISEMENT
Article continues below this ad
In his rookie season, Tua did not make any completions of 50 yards or more. But in his last season, there was two 50-plus yard completion that came on short or intermediate throws. While playing against the Baltimore Ravens, Tua threw 64 yards to Albert Wilson and 57 yards to Jaylen Waddle against the Carolina Panthers. Will his performance this season make him the desirable long-term quarterback for the Dolphins?
Watch This Story- NFL Legend Drew Brees Sends Fans Crazy After Claiming He's Open To Return to Play Football