Miami Dolphins Unveil Jersey Numbers ahead of 2020 Season
Published 05/06/2020, 1:50 PM EDT
By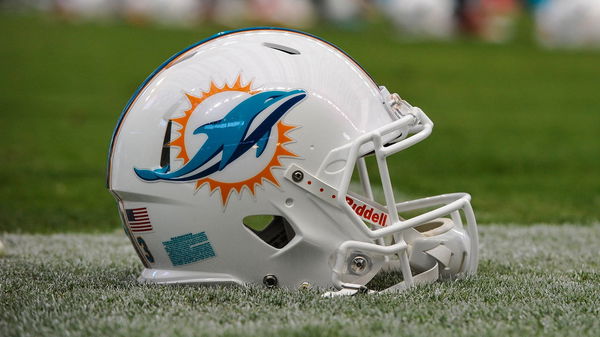 Miami Dolphins unveiled the jersey numbers of new rookies ahead of the 2020 Season. The list was shared on the team's Twitter handle. The tweet finally broke the silence over Tua Tagovailoa's jersey number. Along with that, the Dolphins also released the jersey numbers for newly acquired veterans.
ADVERTISEMENT
Article continues below this ad
The first-round picks, Noah Igbinoghene and Austin Jackson will wear 46 and 73 respectively. While the team's second-round hauls, Raekwon Davis and Robert Hunt will wear 98 and 68 respectively.
As far as the veterans are concerned, Kyle Van Noy will keep his #53 from Patriots. Whereas, the former Cowboys' cornerback Byron Jones changed from 31 to 24. In addition to that, former 49ers, Matt Breida will wear 20. #20 was previously worn by Reshad Jones for 9 nine seasons. Newly acquired pass rushers, Shaq Lawson and Emmanuel Ogbah will wear 90 and 91, respectively.
There were 4 number changes in the newly announced list. Ryan Lewis, who signed with the Dolphins last season will change to #29. Meanwhile, The 24-year-old running back, Patrick Laird changed to #32. De'Lance Turner, who signed with the Dolphins in the month of November will be flaunting #41 in the 2020 season.
Miami Dolphins Give Tua Tagovailoa Jersey #1
ADVERTISEMENT
Article continues below this ad
Tua Tagovailoa was signed to Dolphins for a deal worth $30.2 Million. This deal made him the 25th-highest average paid quarterback in NFL History. Shortly after his draft, people were more concerned about his jersey number than his form. The Rookie used to don #13 throughout his college career with University of Alabama. Having been drafted to Dolphins it was highly uncertain for him to get #13.
ADVERTISEMENT
Article continues below this ad
The #13 belonged to the legendary quarterback, Dan Marino. The Dolphins retired #13 in honour of the Hall of Famer. Realising the significance, Tagovailoa made it clear that he won't be running for #13. "I understand No. 13 is retired, and it should be" he said, before adding "Dan Marino, he's the GOAT. He's like the mayor out there, and I have much respect for him" Tagovailoa is the first Dolphins Quarterback to wear #1 Jersey. This number was made popular by Dolphin's former placekicker, Garo Yepremian.
The Dolphins signed a total of 32 players for their 2020 season. 21 of them being Rookies and the rest of 11 being veterans. Going into the 2020 season, the Dolphins are determined to improve their 5-11 record from 2019 Season.