Mike McCarthy Calls Dak Prescott 'The Keystone' of Dallas Cowboys
Published 03/26/2021, 9:12 AM EDT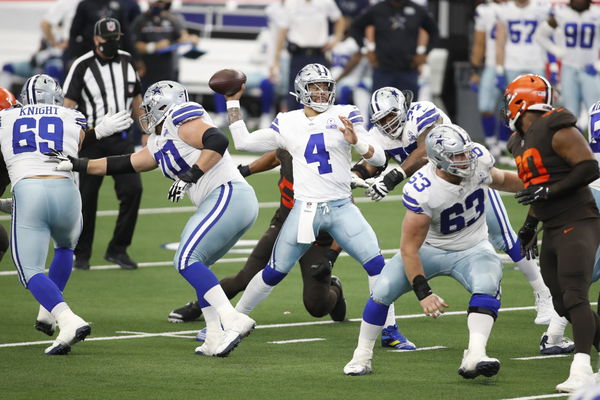 ---
---
The 2020 NFL season ended on a sour note for Dallas Cowboys quarterback Dak Prescott. The 27-year-old suffered a nasty double compound fracture on his right ankle in the Week 5 win over the New York Giants. Prescott immediately underwent surgery and was ruled out for a period of 12-14 months.
ADVERTISEMENT
Article continues below this ad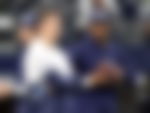 After failing to agree on an extension with the Cowboys, Prescott was playing on a $31.4 million franchise tag in 2020. But Jerry Jones managed to tie down his star man to a long-term deal in the build-up to the 2021 season. Prescott put pen-to-paper on a 4-year extension worth a reported $160 million.
ADVERTISEMENT
Article continues below this ad
The deal involves a massive $66 million signing bonus in addition to $126 million in guarantees. In contrast, legendary Cowboys QB Tony Romo made a little more than $125 million in his entire career in Texas. This just goes to show how much the franchise believes in Prescott and his abilities.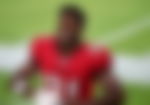 Dak Prescott looking forward to the 2021 season with the Cowboys
One man who was on Cloud 9 after Prescott's latest deal was Dallas Cowboys Head Coach Mike McCarthy. When asked about his reaction when he first heard the news, Mike replied, "It's a lot easier to do cartwheels on the sand, I'll say that.
"I was very excited. Dak is the keystone of this team. I'm excited about Year 2 on offense. In a lot of ways, we didn't feel like we got to have a Year 1.
"Quarterbacks are clearly protected more, that's why you see wide-open offenses. I don't think it's going to be a huge adjustment for him. I don't think he needs to lower his shoulder and stiff-arm maybe as much.
"Jerry [Jones] probably wants him to run out of bounds every play. He just has to be more mindful of it. I don't ever try to make a statement to a player that may make him hesitate.
ADVERTISEMENT
Article continues below this ad
"Hesitation in the NFL, you're a step slower than your opponent and that can potentially put you in a worse position," McCarthy said via ESPN.
Despite playing just 5 games in 2020, Prescott threw for 1,856 yards with 9 passing TDs. He was on track to break Peyton Manning's single-season passing yards record prior to his unfortunate injury.
Is Dak the man to lead the Cowboys back to the Super Bowl? Based on his new deal, you'd have to agree that Jerry Jones believes he is. Whether he does manage to do so or not, is a debate for the future.
ADVERTISEMENT
Article continues below this ad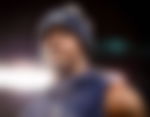 Trending Stories