More Than 80 Million Hits on Rihanna's Songs in February Storm Despite No Album for Over 1800 Days Excites Fans: "Post Super Bowl Effect"
Published 03/03/2023, 4:21 AM EST

Follow Us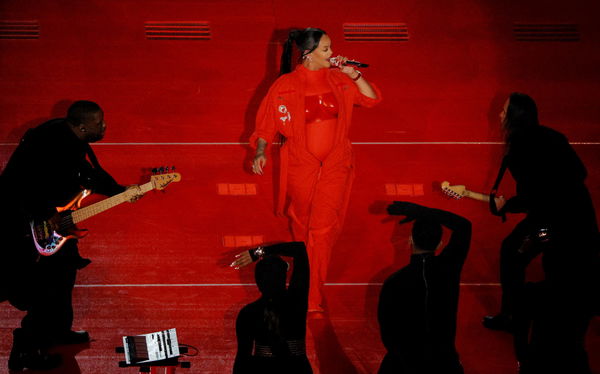 It is an undeniable fact that Rihanna is a superstar in the music industry. No, that is not a statement, but it is an underlying fact that everyone will agree with. Even after a hiatus of over 1800 days without new music, her popularity remains unmatched. Despite her last album 'Anti' being released in 2016, Rihanna still manages to capture the hearts and minds of fans all over the world. And although there have been the occasional singles that have been released over the years, fans are still craving more music from the iconic star.
Now, following her highly anticipated performance at the Super Bowl LVII halftime show, Rihanna has once again climbed the charts and currently holds the position of the 4th most popular artist in the world.
Rihanna 'shines bright like a diamond' post-Super Bowl performance
ADVERTISEMENT
Article continues below this ad
The Kansas City Chiefs may have emerged victorious as the Super Bowl LVII winners but Rihanna seems to have stolen the limelight in what can be called a spectacular performance during the halftime show. The 'Red Lipstick' singer dazzled the audience in a red outfit and left fans mesmerized after coming out into the forefront of music again after a hiatus.
According to atrl in what we can consider a post-Super Bowl effect, Rihanna has crossed 80 million monthly listeners on Spotify, for the first time. It is never too late to make a comeback, and Rihanna has certainly proved that to the world.
A certain fan of Riri even commented, "a certain fanbase is still screaming that Rihanna had no post superbowl effect while their fave is coming for a razzle"
It left fans ecstatic and took to social media to express their excitement over the singer's newfound success all over again.
Absolutely Fantastic!!🖤🖤🖤💯💯

— Cassandra A. Young (@CassandraAYoung) March 3, 2023
See when you make hits? 👏🏼

— Mariano 🥸 (@marianomtnz) March 2, 2023
With no new music. Rihanna drop the damn album give the world what they need

— Ny🖤🌈 (@MLashae_) March 3, 2023
I want 1 but 4 is a great achievement

— Alan Nelson (@tellyaddict40) March 2, 2023
The 'Barbados babe' had taken a sabbatical from her music career to focus on herself as an entrepreneur and a businesswoman. Despite no new music being released, the Super Bowl has successfully proven why she remains a heartthrob for people all over the world. 
Will Riri release new music in the future?
Nevertheless, one thing is for sure, fans want more of Rihanna. They are patiently and excitedly waiting for her to release new music. It is clear that the 'Needed me' singer has made herself feel wanted again. While we wait for 'Riri' to entice us with her music again, her lyrics from the song seem to justify the scenario of the present moment,
"You needed me
ooh(ooh)
ADVERTISEMENT
Article continues below this ad
You needed me (you needed me)
To feel a little more, and give a little less
Know you hate to confess
ADVERTISEMENT
Article continues below this ad
But baby, ooh, you needed me"
Watch this story: "My name is taken": Patrick Mahomes answers whether 'Rihanna should name her baby after him'
Edited By: Abigail Kevichusa