'Mount Rushmore of Sports': Fans Go Gaga Over Tom Brady's Latest Instagram Post Featuring Michael Jordan, Lewis Hamilton and David Beckham
Published 05/09/2022, 7:30 AM EDT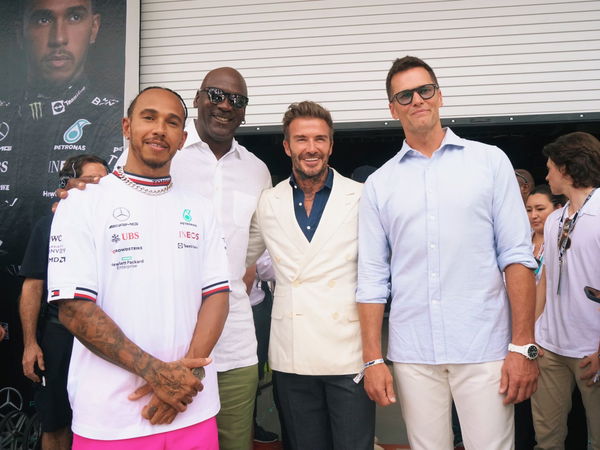 Is this the greatest crossover episode in the history of professional sports? Four major names in their sport were spotted together in a prestigious photograph. This picture will go down as one of the most iconic photos in history. In the frame, we saw soccer GOAT David Beckham, basketball GOAT Michael Jordan, racing GOAT Lewis Hamilton, and football GOAT Tom Brady. 
The fans went berserk after watching this picture. All four of the GOATs came together to attend the Miami Grand Prix. Hamilton was racing in the event, and the other three were there to enjoy the rush.  
ADVERTISEMENT
Article continues below this ad
The iconic Tom Brady, David Beckham, Michael Jordan, and Lewis Hamilton picture
The recent Miami Grand Prix was one of the most exciting races this year. Lewis Hamilton was a part of the race. The British racer finished in the sixth spot. It was the first time in his racing career that the driver finished outside of the top four in America. But what made more headlines than the race itself was the attendance. The audience at the Miami GP was star-studded, to say the least.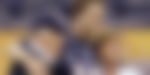 The GOATs Michael Jordan, David Beckham, and Tom Brady were in attendance to support the Mercedes driver Lewis Hamilton. And we thought Dr. Strange would be the greatest multiversal event this week. Just like Brady's seven Super Bowl rings, Hamilton is a seven-time F1 champion. He greeted the three legends. All four of the legendary athletes then clicked the most iconic photo in the history of sports. 
The legendary quarterback Tom Brady posted the picture on his Instagram. The GOAT captioned it, "Let's Go!" and tagged the other three legends. 
 

View this post on Instagram

 
The fans were having the time of their lives after seeing this iconic photograph. Brady also posted the picture on Twitter. Replying to his tweet, the NFL on Prime Video had the best answer. The account used the "They're the same picture" meme from the famous sitcom The Office. They compared the legendary athletes to a picture of four actual goats. 
Seeing the four icons, fans couldn't help but compare them to the iconic American monument: Mount Rushmore.
The official Mercedes F1 team account posted the picture and wrote, "Sporting royalty right here."
ADVERTISEMENT
Article continues below this ad
The YouTuber Mark Goldbridge helped the fans who do not speak GOAT.
Hamilton, Jordan, Beckham, Brady for anyone who doesn't speak Goat

— Mark Goldbridge (@markgoldbridge) May 8, 2022
ADVERTISEMENT
Article continues below this ad
This picture is something people will find in articles and books 50 to 100 years from now. It is a historic picture. People may look back at it in the future and enjoy the royal present in the frame.
Watch This Story: Lamar Jackson Hangs Out With Greatest American Olympian Of All Time, Micheal Phelps