"My Heart Sunk" – Philadelphia Eagles Head Coach on Star Guard's Injury
Published 06/16/2020, 2:06 PM EDT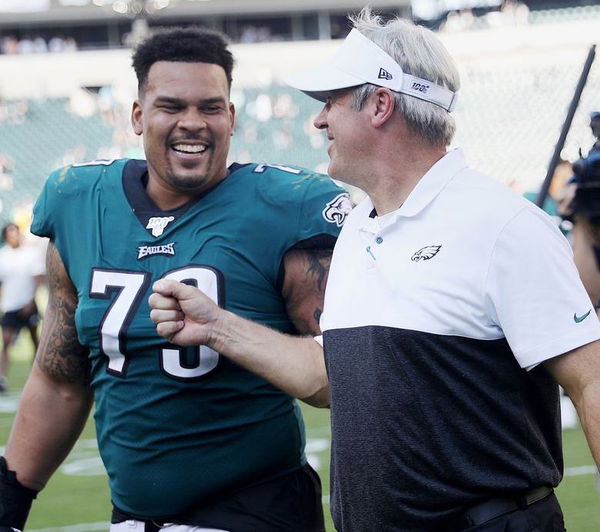 Having clinched the Division Title in the 2019 season, the Philadelphia Eagles are looking to build upon their past performance and revive their once successful journey to a Lombardi, this year. However, the team suffered a setback even before the 2020 season kicked off.
Brandon Brooks suffers an injury
Eagles' right guard, Brandon Brooks, reportedly tore his left Achilles tendon while working out. Consequently, he will be unable to play the entire 2020 season. Brooks injured himself while running on the field.
ADVERTISEMENT
Article continues below this ad
So I guess now that news is out yes I tore my other Achilles but when life gives you lemons you make lemonade. I'll be back and better than ever. Appreciate the love ✊🏽

— Brandon Brooks (@bbrooks_79) June 15, 2020
The guard confirmed the news on Monday. While he may certainly be devastated by this incident, he still seems to be staying positive.
Interestingly, Brooks tore his right Achilles tendon during the playoffs against the New Orleans Saints in 2018. He took eight months to recover and only returned at the beginning of the 2019 season.
What the Philadelphia Eagles' head coach had to say
Doug Pederson said on Tuesday, in a call with reporters, that he is very upset to have heard about Brooks' injury. "My heart sunk when I got the news about Brandon's injury," he said. "This guy has worked extremely hard to get himself back… back in playing shape to have a solid 2020 season. We feel for him, to have to go through this again, obviously, but we know he'll push through." He seemed more worried about Brooks' facing a long recovery process from this injury than his team's offensive line.
Doug Pederson: "My heart sunk when I got the news about Brandon's injury. …We feel for him to have to go through this again. …As far as the plan, at this point, we're still looking at a lot of options, starting with our own roster and the guys we have."

— Zach Berman (@ZBerm) June 16, 2020
ADVERTISEMENT
Article continues below this ad
Brooks, a 3 time Pro Bowler, was drafted by the Houston Texans in 2012 and became a starter for the team in 2013. He moved to the Eagles in 2016 after signing a $40 million five-year contract with them. Brandon signed an extension with the team in 2019.
A dislocated shoulder in the last regular-season game of 2019 resulted in Brooks missing the postseason.
This news comes just when the Eagles ended their two-month virtual offseason program. This included video meetings and home workouts. The program was ended sooner than initially planned because coach Pederson was very pleased with how the players responded. He felt the players deserve some time away from the game before Training Camp in July. "I just really feel like we're in a good place right now as a football team," Pederson told Eagles Insider's Dave Spadaro.
ADVERTISEMENT
Article continues below this ad
Pederson said, "My focus is on the football team right now and just making sure they're safe and healthy in these next couple of weeks whenever we do get back to football and get back into our building," only to later find out about Brooks' injury.
The Philadelphia Eagles now need to assess options to substitute Brandon Brooks till this he can be back on the field. And head coach Doug Pederson said that's exactly what they are doing. "We're going to take a look at a lot of different scenarios, different possibilities. We've got some time before training camp to try to sort these things out."