"Nameless Gray Faces" – Steelers' Juju Smith-Schuster Takes Shots at Cleveland Browns
Published 01/08/2021, 2:35 PM EST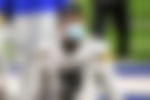 ---
---
Juju Smith-Schuster and the Pittsburgh Steelers qualified for the Playoffs this season. After an incredible 11-0 start, the Steelers suffered an immense collapse and lost 4 of their remaining 5 games.
ADVERTISEMENT
Article continues below this ad
Despite the late-season losses, the Steelers managed to secure a wildcard spot in the Playoffs, and now they take on the Cleveland Browns.
Juju Smith-Schuster spoke to the press ahead of the Steelers' wildcard playoff game against the Cleveland Browns.
ADVERTISEMENT
Article continues below this ad
Unsurprisingly, Juju took an extremely confident stance, believing that the Steelers are the easy favorites to win the game. He even took shots at the Browns in the process, calling them nameless gray faces.
JuJu says he's happy to be playing the Browns Sunday. pic.twitter.com/zMg85kRV5u

— SportsCenter (@SportsCenter) January 8, 2021
He said, "I think they're still the same Browns team I play every year. I think they're nameless grey faces. They have a couple good players on their team but at the end of the day…The Browns is the Browns."
Juju's comments should not come as a surprise. He is a provocative figure and consistently says and does things to get into the heads of his opponents.
Throughout the season, his pregame ritual included dancing on the logo of his opposition team's stadium in an effort to have some fun at their expense.
Juju Smith-Schuster throwing shade at Cleveland
However, after many people questioned his antics as disrespectful, Juju put an end to the dancing ritual. The Steelers had a strong start to the season.
However, they lost all of their momentum in the final stretch of the season, as they went 1-4 in the last 5 games. Due to this, they lost their first seed position in the AFC to the Kansas City Chiefs.
For the Steelers, they will be hoping that their form in the last five games of the NFL was nothing more than a blip on the radar.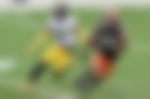 They need to recover their early season form in order to have some sustainable success in the Playoffs. Playing against Cleveland will not be easy, as the Browns showed their ability to fight through adversity to be able to make the Playoffs.
ADVERTISEMENT
Article continues below this ad
Will Juju's words come back to haunt the Steelers? The game against the Browns is pivotal for the Steelers as they aim to return to the Super Bowl after a long time.
If they want to make it to the Super Bowl, Juju must prove himself right and make short work of the Cleveland Browns along with other teams in the AFC.
ADVERTISEMENT
Article continues below this ad