7 Ft Jacked Giant Shaquille O'Neal & NFL Hall of Famer Terrell Owens Have Similarities That Go Beyond the GridIron & Basketball Court
Published 06/30/2022, 2:42 PM EDT

Follow Us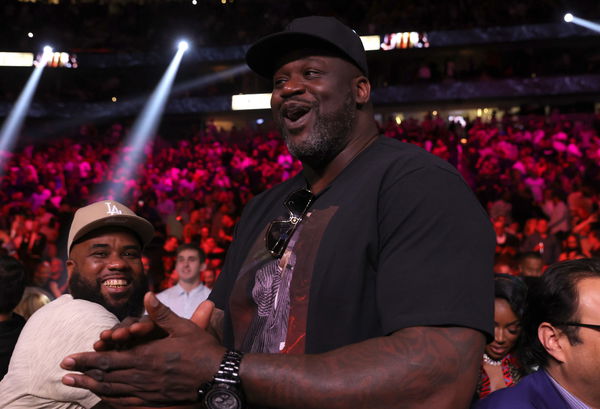 If you look hard enough, there are many unusual similarities between NBA and NFL stars. Among them, two stars have such resemblances that match, and even go beyond the sport. NBA Legend and Media Savant Shaquille O'Neal and infamously fan favorite NFL WR Terrell Owens. While the NFL legend is still making a run at football, Shaquille O'Neal has chosen various professions.
Terrell Owens once played wide receiver in the NFL and was among the finest in the sport. Shaquille O'Neal is one of the greatest basketball centers. Both have made their way into the Hall of Fame, and are living the best life ever. They both have strong opinions and won't shy away from verbalising them. Both of them are very outspoken and high-level competitors who can back their talk with unreal play. And to top it all, both of them had trouble staying off the field or court. During Shaq's later years, he wasn't at all close to his supreme prime self, owing to injuries, miles on the body and poor knees.
ADVERTISEMENT
Article continues below this ad
Similarly, it was difficult for TO to accept that moving on from the NFL is the right step. Even now, 10 years after his official retirement, he continues to show off his ripped physique and athletic abilities in a league not called the NFL.
Terrell Owens vs. Shaquille O'Neal: A Comparison of the Game-Changers
Terrell Owens has hit the comeback button on his football career. Although, it is not with the NFL. It is with the FCFL and he continues to function as a WR. Although, his body may or may not revive as well as it once could. He would be extremely vulnerable to re-injury, very much like Shaq. He is still running off the end zone, but the injury scare remains.
These two were once the best in the business over what they did. In Los Angeles, Shaq teamed up with Kobe Bryant to create a monarchy. While in San Francisco, Owens took over for Jerry Rice and monopolized the wide receiver placement for several years. T.O. and Shaq were two of the best players in their respective leagues. However, the two had the most in common in terms of discourse and charisma. Both have developed identities in such a way that makes them stand out above the others.
T.O. still runs like crazy!
ADVERTISEMENT
Article continues below this ad
In April 2022, Terrell Owens made his comeback in the Fan Controlled Football League. Despite his age, he still sprints and snags a catch. He is a perfect example of aging like a fine wine. Owens reached a new career milestone and was the league's star attraction during the first week of the second season. In the FCFL, he scores the first touchdown of his career as a Zapper.
ADVERTISEMENT
Article continues below this ad
Terrell Owens' brilliance and agility on the field were undeniable throughout his 15-year NFL career. However, he became well-known for his absurd goal celebrations. Just to be fair, it appeared insane for him to spray popcorn onto his helmet. Although a return to the NFL may be far off, he can still play football, just indoors.
Watch This Story: Deebo Samuel Receives Death Threats and Racist DMs for Contract Issues With 49ers