Cam Newton Had the Perfect Response to a Kid Who Heckled Him at Training Camp
Published 02/22/2021, 12:15 PM EST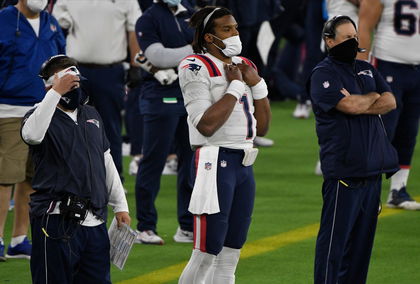 ---
---
Former Carolina Panthers man Cam Newton made waves when he signed for Bill Belichick's New England Patriots last year. The veteran NFL quarterback penned a 1-year deal with the AFC East franchise.
ADVERTISEMENT
Article continues below this ad
However, he could only lead them to a 7-9 record as they finished 3rd in their division. The 31-year-old is currently without a team and is still on the hunt for a new franchise.
But Newton made headlines for all the wrong reasons on Monday after he got into a verbal spat with a youngster from one of his training camps. The over-enthusiastic individual badmouthed Newton from the sidelines.
ADVERTISEMENT
Article continues below this ad
Cam went on to confront the kid while asking, 'Where's your dad?' and that video went viral on social media. But the former Panthers quarterback does not regret lashing out at the young player, here's why.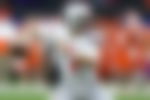 Cam Newton leads by example after confronting a loud-mouthed youngster
2015 Heisman Trophy winner Cam Newton defended his actions from earlier this week with a lengthy post on his official social media handle.
The broadcast also featured an additional video wherein Cam was seen trying to converse with the outspoken youngster from his training camp.
He said, "What you didn't see. I see there are a lot of things festering out there that I see took place over the weekend. To the natural eye, you see me asking the young man, 'Where is your dad at?'
"But to me, talking to a child with everyone looking does me no good! So instead of speaking or going back and forth with a child, I wanted to have a man-to-man conversation with his father.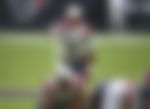 "People want to see me arguing with another young man and to see me 'get in my feelings.' But the truth is this: I impact kids lives in a positive way.
"Make no mistake about it. I allow kids to realize there is an 'out' by using their football talents to get them to the next level and in most cases, out of the hood," Newton wrote under his Instagram post.
Meanwhile, the kid took to social media with an apology. He asked for forgiveness for his deplorable comments and accepts responsibility for his poor off-field actions.
ADVERTISEMENT
Article continues below this ad
Newton is yet to pen a new deal with the Patriots heading into the 2021 season. It is unknown whether Newton will sign another short-term deal with coach Belichick's franchise.
But one thing is clear, he is not going to back down without putting up a fight. Keep an eye on this space for more in the coming weeks.
ADVERTISEMENT
Article continues below this ad