New England Patriots Demolish Tennessee Titans; Are They Charting a Course to the Super Bowl?
Published 11/29/2021, 2:22 AM EST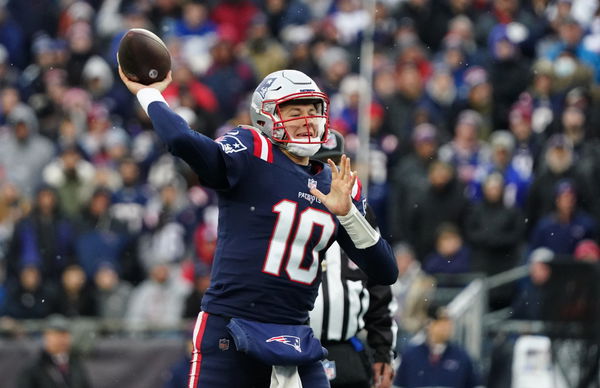 The New England Patriots demolished the AFC South leaders, the Tennessee Titans, both offensively and defensively during the Sunday afternoon matchup in Gillette Stadium. The Patriots took over the Titans 36-13 making it their sixth victory in a row and bringing them back up the top of the AFC East table.
Although the streak may not feel much for the Patriots fans considering the fact that the franchise has seen better days under the influence of the superstar quarterback Tom Brady, but for a quarterback playing his rookie season, it's not a bad one either.
ADVERTISEMENT
Article continues below this ad
Mac Jones against the Tennessee Titans
Mac Jones is certainly showing his true colors, as the season progresses week by week. Since he has started achieving new career highs just like he did against the Titans by throwing for 310 yards. The 23-year-old quarterback completed 23 of 32 pass attempts with two touchdowns to Kendrick Bourne and no interceptions.
"We missed some opportunities in the game but again, we're going up against a good team," Bill Belichick said. "It's going to happen. But in the end we were able to not turn the ball over and take the ball away."
However, wide receiver Jakobi Meyers had an equally well contribution since in just five receptions the 25-year-old covered 98 yards, making his average 19.6 yards per catch.
Mac Jones has a career-high 310 passing yards today

— Mark Daniels (@MarkDanielsPJ) November 28, 2021
New England Patriots with a well-poised team
Furthermore, the Patriots' defense deserves equal appreciation since they were able to contain the Titans in three quarters of the game. As all the points 13 points scored by the guests came during the second quarter of the game.
Speaking of Nick Folk, the Patriots placekicker continued to awe the Gillette audience with his remarkable consistency during the game. He connected for five of six field goal attempts from 22, 37, 44, 28, and 52 yards, setting a new career-high with the Patriots.
ADVERTISEMENT
Article continues below this ad
"You can really count on him and he's delivered for us time after time," Belichick said. "Really fortunate to have him, his consistency. Not easy kicking out there, as we saw on the other side as well. So yeah, Nick is very professional and very consistent."
ADVERTISEMENT
Article continues below this ad
The Patriots have now become a team cruel enough to demolish table leaders. And as they are to go up against their regional rivals Buffalo Bills in their next week's matchup, it going to be quite a battle as the two franchises will fight for the first spot in the AFC East.