New England Patriots GeneraL Manager Bill Belichick's Dog Takes His Place at NFL Draft
Published 04/25/2020, 4:35 AM EDT

Follow Us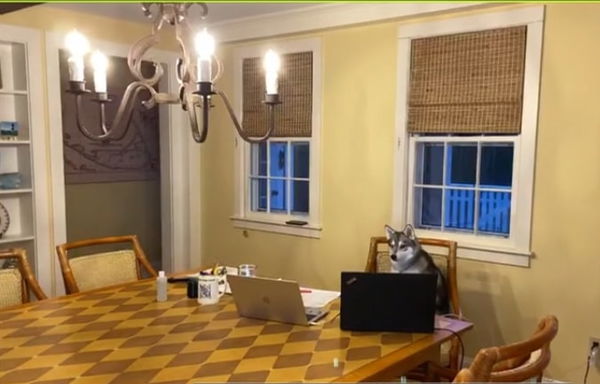 The Coronavirus pandemic moved the 2020 NFL Draft from Las Vegas to living rooms all across the United States. The league held a mock draft at the start of the week. this was to help iron out any problems that could potentially arise in this first of its kind draft. While the mute and bandwidth issues from there have been solved, a video emerged and gave fans another amusing moment involving New England Patriots General Manager Bill Belichick.
Bill Belichick replaced by a dog at the NFL 2020 draft
The Massachusetts based team entered the draft in round 2 with the 37th overall pick. However, as the stream moved to a split-screen intending to show us the general manager and director of player personnel, we saw that Belichick was not behind his laptop. Instead seated on the chair was the Patriots GM's Alaskan Klee Kai Nike. 
ADVERTISEMENT
Article continues below this ad
Twitter was not oblivious to this and there was an inundation of memes just seconds after it hit the screens. 
They went ahead to draft Lenior-Rhyne safety, Kyle Dugger who became the top draft pick from a Division II school at the 2020 NFL Draft. The selection ended a fourteen-year wait for a Division II safety to be drafted in the first 3 rounds. 
The 24-year-old spoke to SB Nation after his selection. He said, "I kind of like the underdog role. It's something that's going to continue to drive me. I know I'm not the only talented player at that level, and my school, I thank them for giving me the opportunity to continue to play football, something I love."
ADVERTISEMENT
Article continues below this ad
He didn't say anything about Belichick's canine possibly making the pick. But he may want to toe the line until he gets familiar with his team. 
The New England Patriots safety starters are in their early 30s. This may allow Dugger to get game time and learn alongside his experienced teammates. 
Will this pick prove to be a good one? Patriots fans will certainly hope so. If not they can always look at the video and try to reason out that Belichick didn't make it. 
ADVERTISEMENT
Article continues below this ad
This will certainly go down as one of the iconic moments of the draft.  Do you see more pets getting involved in the 2020 NFL Draft?
"Just Making Myself at Home"- Tom Brady Gives a Humorous Reply on Trespassing