'Happy Hunting': Panthers DE Brian Burns Issues Terrifying Warning to Mac Jones
Published 11/11/2021, 3:42 AM EST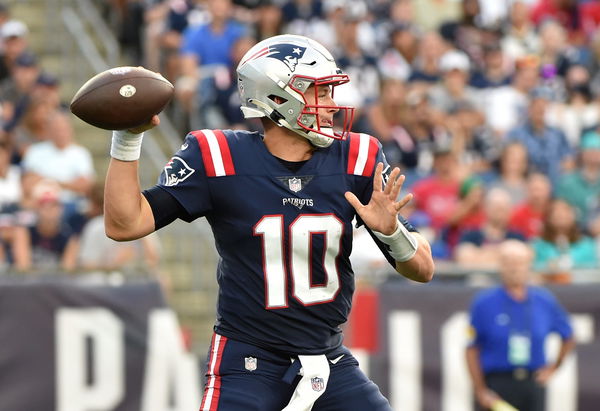 ---
---
Mac Jones is in huge trouble. Not only is his 'dirty play' under investigation, but the player he injured has literally put out a hit on him. During New England Patriots vs Carolina Panthers, Jones grabbed the ankle of defensive end Brian Burns to prevent a turnover. However, Burns did not even have the ball, making Jones' foul even more egregious.
ADVERTISEMENT
Article continues below this ad
Brian Burns wants league's DEs to 'hunt' Mac Jones
ADVERTISEMENT
Article continues below this ad
Seeing a rookie display such behavior on the field came as a shock to many. Especially someone like Mac Jones, who many have touted to be the next Tom Brady. However, it looks like he is going to have his own version of Deflategate, although we might have to call it 'Anklegate'. Nevertheless, Brian Burns had nothing sweet to say about Jones after the incident.
Jones had a sheepish explanation for his foul, which led to a pretty severe injury. Burns left the field after the foul, only to return for a matter of minutes. He once again left the field in the final quarter of the game, and his ankle still hasn't healed. He remains a game-time decision for the Carolina Panthers this week, as they take on Arizona Cardinals on Monday Night Football.
ADVERTISEMENT
Article continues below this ad
#Panthers pass-rusher Brian Burns says it would be nice if Mac Jones apologized for grabbing his ankle on Sunday, but he doesn't expect it to happen. "I would just like to play them again. I wish all my fellow D-end brothers happy hunting." pic.twitter.com/V3iQc8YBJY

— Ari Meirov (@MySportsUpdate) November 10, 2021
Jones claimed, "After I got hit pretty hard, I didn't know what was going on. I thought he had the ball…" Burns retorted, "His explanation for it, because he thought I had the ball, I don't think you can think a person has the ball, as soon as I sacked you, you grabbed my arm. And then everybody ran past us. Even if you thought I had the ball, it's not legal to trip somebody, leg sweep somebody, let alone twist ankle. It's not legal to do that."
ADVERTISEMENT
Article continues below this ad
Now that Jones has not apologized, Burns issued a scary statement. "It would be nice to have an apology, Mac, but it's not going to happen. However, the NFL handles it, it's on them. I would just like to play them again. I wish all my fellow D-end brothers happy hunting. That's all."