'Jimmy Garoppolo Was Being A B*tch' – Former Super Bowl-Winning Teammate Blabs On Niners QB
Published 10/24/2021, 7:54 AM EDT

Follow Us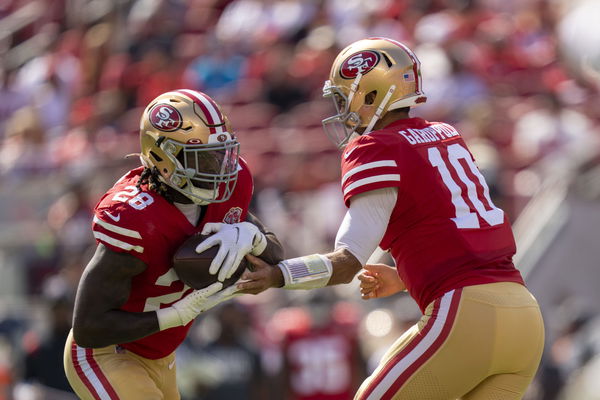 Jimmy Garoppolo has made himself a star for the Niners as he carries the franchise on his shoulders, but that hasn't been the case since the inception of his career. His former Patriots teammate holds different opinions upon him, unlike his current ones.
His former Super-Bowl winning teammate, Martellus Bennett was recently seen blabbing on the star Niners QB. Wherein he revealed that Jimmy G had a prima-donna attitude back in his days with the Patriots. As according to him, Jimmy refused to lead the team in a QB crisis and Jacoby had to step up with a messed up thumb.
ADVERTISEMENT
Article continues below this ad
Jimmy Garoppolo a prima-donna?
The game that Bennett was talking about was against the Buffalo Bills, where the Patriots faced a demolishing 16-0 defeat at Gillette Stadium. During the first month of the 2016 season, when Tom Brady was serving his four-game Deflategate suspension, Jimmy Garoppolo was chosen to lead the franchise during that time.
Jimmy, though, led the team to victory in the first two weeks but picked up a shoulder injury, pushing Jacoby Brissett to the starting spot. Brissett, after a terrific display against the Texans, got his thumb messed up. Now, with all their three main QBs injured, it was quite a dilemma for Bill Belichick.
ADVERTISEMENT
Article continues below this ad
Martellus Bennett has some strong words for the Niners star
"Bro, we lost two games. One of them was because Jimmy Garoppolo was being a b*tch," Martellus said on the Double Coverage podcast with Devin and Jason McCourty. "He decided not to play right before the game. Jacoby [Brissett] came out and played with a f*cked up thumb and played his heart out, but Jimmy was just being a b*tch about it all." 
ADVERTISEMENT
Article continues below this ad
Talking about their Super-Bowl winning 2016 season together, the retired tight end was unappreciative of Jimmy's contribution to the team. When the Patriots desperately needed a quality quarterback during the absence of Tom Brady, Jimmy backed off from his role and Jacoby Brissett stood up for the team despite an injured thumb. That was one of the two games that the Patriots lost that season.