Man In The Arena: Tom Brady Documentary Is a Must-See According to Latest Trailer
Published 11/03/2021, 1:15 PM EDT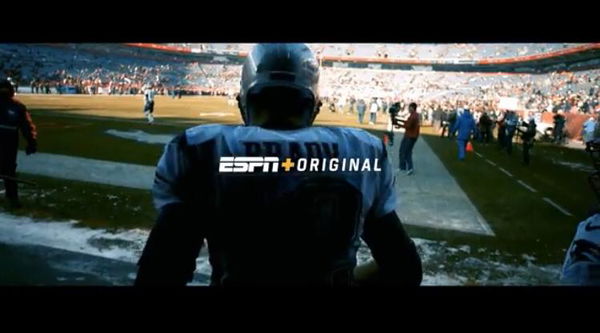 ---
---
ESPN has dropped another trailer on Tuesday night for the upcoming Tom Brady docuseries titled 'Man In The Arena'. This ten-part series covers all ten Super Bowl appearances of Tom Brady.
ADVERTISEMENT
Article continues below this ad
The new trailer displays some iconic highlights of Tom Brady's remarkable tenure with the Patriots. The trailer is a must-see, as it gives a unique yet mesmerizing and engaging storytelling perspective. In the background, Brady can be heard reading a speech that was originally given by Teddy Roosevelt a year after he left office. And so Brady goes…
ADVERTISEMENT
Article continues below this ad
Tom Brady recites Teddy Roosevelt
"It is not the critic who counts; not the man who points out how the strong man stumbles, or where the doer of deeds could have done them better. The credit belongs to the man who is actually in the arena, whose face is marred by dust and sweat and blood; who strives valiantly; who errs, who comes short again and again, because there is no effort without error and shortcoming; but who does actually strive to do the deeds; who knows great enthusiasms, the great devotions. Who spends himself in a worthy cause, who at the best knows in the end the triumph of high achievement, and who at the worst, if he fails, at least fails while daring greatly, so that his place shall never be with those cold and timid souls who neither know victory nor defeat."
Man In The Arena drops on November 16
ADVERTISEMENT
Article continues below this ad
Thus quoting these powerful lines, Brady steps into the arena of storytelling. And his upcoming masterpiece is going to take that arena by storm. Make sure to check it out at all costs.
ADVERTISEMENT
Article continues below this ad
Man In The Arena is all set to release on ESPN+ on Nov. 16, and the fans cannot wait to get a glimpse of the GOAT on the screen, this time in a different way. Surely the docuseries is going to be an instant hit judging by the trailer and the effort put into it.