'Whole Lotta Babe': Julian Edelman Performs Hilarious Impression of Tom Brady and Rob Gronkowski on Manningcast
Published 11/23/2021, 6:38 AM EST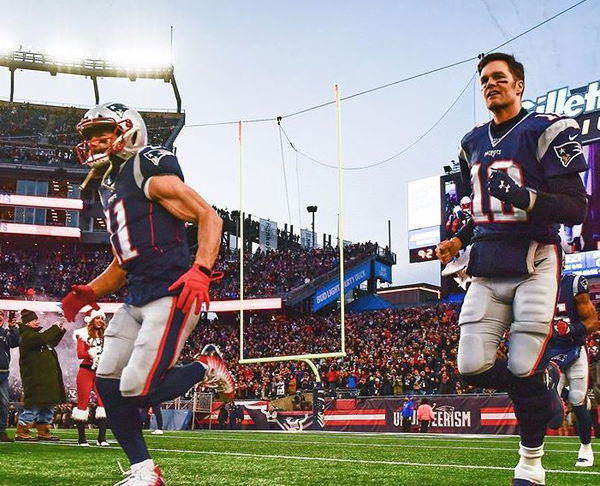 ---
---
Julian Edelman was on the Monday Night Football broadcast with the Manning brothers, Payton and Eli. They closed off week 11 after all the amazing action. Julian and the Mannings were covering the Tampa Bay Buccaneers and New York Giants game. Two of his former New England Patriots teammates now play for the Buccaneers. The legendary trio of Tom Brady, Julian Edelman, and Rob Gronkowski dominated the field together for years. 
ADVERTISEMENT
Article continues below this ad
Julian mimicking Brady and Gronk
ADVERTISEMENT
Article continues below this ad
The Manning cast has become the highlight of every NFL week after the matches. With its star-studded lineups and coverage of the game. It is the most entertaining show to watch if you are an NFL fan. 
One of the most enjoyable parts of the show is when the players and the guest make jokes or mimic each other. One such incident happened while covering the Buccaneers and the Giants game. Julian Edelman was shown a clip of Tom Brady and Rob Gronkowski having a conversation on the sidelines.
When asked what they were talking about, he started imitating them. While imitating Gronk, Julian said, "Hey Tom, I don't think I'm quite ready. My lungs hurt a little bit. I need like two more days of practice, and I'll be there, babe." Then for Brady's reply, Julian said, "Babe, I thought you did well today. You know, we gotta keep it going, we gotta get better." 
Edelman described Tom Brady as the ultimate confidence guy for Gronkowski and said that is probably the extent of their relationship. Julian called Tom a 'Babe guy'
Edelman almost reunited with Tom Brady and Gronkowski
ADVERTISEMENT
Article continues below this ad
Before Julian Edelman hung up his boots during the off-season, Tom invited him to play for the Buccaneers. Edelman played for 12 seasons in the NFL, and all 12 of them were in a New England Patriots shirt. He had the opportunity to join two other teams during his career. Julian was very close to making a move as well. Back in 2013, Edelman became a free agent, and he was on the phone with the New York Giants, but he decided to resign with the Patriots on a one-year deal. 
In 2020, Tom Brady offered him to join the Tampa Bay Buccaneers and reunite with him and Gronk. " (Tom) hit me up the first day he signed there, like, 'You wanna come down?' " But Julian denied the offer. "I was like, 'Absolutely not.'" 
ADVERTISEMENT
Article continues below this ad
The fans did not get to see the trio in action one more time, and it is very unlikely that they will play together again. Edelman just retired. Maybe we will see them on a show together someday.