Tom Brady Compares Super Bowls LIII and LII on Man in the Arena: 'I Still Felt That Game Was Very Much Not In Our Control'
Published 01/12/2022, 1:03 PM EST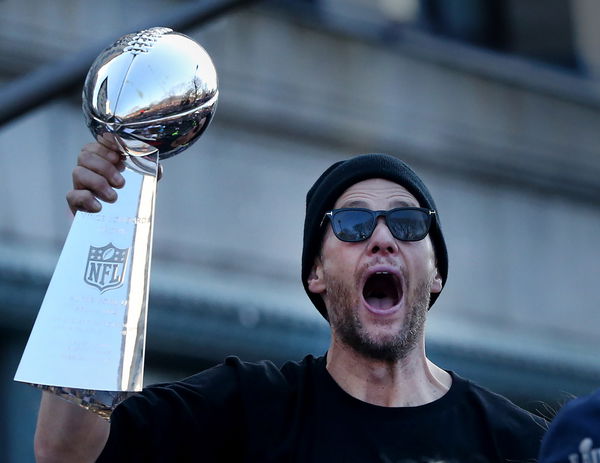 ---
---
Tom Brady, in the eighth installment of his Man in the Arena docuseries, revealed that during his Super Bowl LII loss against the Philadelphia Eagles, the New England Patriots never had the reins of the game in their hands. He felt as if the game was never in their control, despite the ability to score points.
ADVERTISEMENT
Article continues below this ad
However, he felt quite the contrary in his latest episode when talking about his Super Bowl LIII win against the Los Angeles Rams. The quarterback in the episode stated he felt that the game was much in their control, even though they were less effective on the offensive side of the ball.
ADVERTISEMENT
Article continues below this ad
Tom Brady comparing his Super Bowl games
"For some reason, we always felt somewhat in control," Brady said. "Even though we weren't playing great, we kept getting field position, we kept moving the ball, we were right on the brink. If you contrast to the previous year where we were constantly moving [the ball] down the field and scoring points, and constantly getting the ball in the end zone, I still felt that game was very much not in our control."
It was a low-scoring game where the Patriots downed the Rams by 13-3. The game was slow at first, but by the end; it looked that the Belichick side had picked the required pace and rhythm to seal their win. On the other hand, the Super Bowl LII was a high-scoring game where the Patriots' offense lacked the needed boost.
ADVERTISEMENT
Article continues below this ad
Against the Rams, Brady finished 21 of 35 pass attempts covering 262 yards with no touchdowns and one interception. While against the Eagles, the star quarterback finished with 28 of 48 pass attempts covering 505 yards with three touchdowns and zero interceptions.
ADVERTISEMENT
Article continues below this ad
Seemingly, Brady did much better on the stats table during his 2018 Super Bowl game against the Eagles, than his 2019 game against the Rams. Yet the ground reality is known by the players who are in the Arena.