New Falcons QB Desmond Ridder Flexes Confidence As He Trades Words With Head Coach: "They Done F***** Up"
Published 05/07/2022, 1:15 PM EDT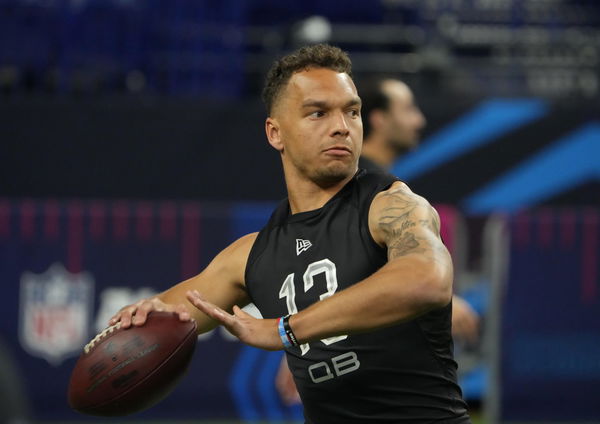 Atlanta Falcons are trying to find a long-term solution to their starting quarterback position, and newly drafted Desmond Ridder could be their man. The departure of veteran QB Matt Ryan this offseason to the Indianapolis Colts has left the team with a gaping hole for 2022. While they brought in QB Marcus Mariota in the offseason, the Falcons were also keeping tabs on another player for a long time.
The franchise took its time in the 2022 NFL Draft, and it was with the 74th overall pick that Ridder became a Falcon. It was an emotionally demanding moment for the former University of Cincinnati QB, and he let them know during the phone call with franchise heads.
ADVERTISEMENT
Article continues below this ad
Ridder was desperately waiting for the call and stated, "Shouldn't have taken this long, Coach. They done f***** up."
There seems to be mutual admiration between the organization and the player, as Ridder was confident about being a great fit. The Falcons will be playing under head coach Arthur Smith's offense and were comparing how he would be a seamless fit in their system. Ridder also expresses how he has looked up to Mariota and will be willing to learn under him and improve.
Desmond Ridder always believed he was going to the Falcons
He admits that he hit it off with the franchise during his pro day in Cincinnati and formed an instant connection with the Falcons' leadership. Coach Arthur Smith also acknowledges how he is happy about the similarities in the skill sets of all his QBs. Both Mariota and Ridder are among the willing runner QB talents in the NFL and something central to Smith's game plan in Atlanta.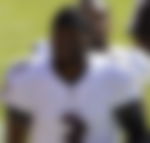 ADVERTISEMENT
Article continues below this ad
The challenge for Smith will be choosing his starting QB before the start of the 2022 NFL campaign and something that might change as the season progresses. While Ridder will be growing in his rookie season, the Falcons don't appear to be going all-in on Mariota long-term.
It will be a long-term project for Smith and will require a lot of patience from the Falcons faithful in the coming seasons.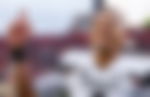 ADVERTISEMENT
Article continues below this ad
The 2022 NFL campaign will be challenging for the Falcons, and the goal will be to make the playoffs soon. While he was a third-round selection, the franchise believes in the potential Ridder possesses to be a mainstay in their offense.
Watch This Story: Brittany Matthews Shares More Photographs From Wedding Featuring Emotional Message to Patrick Mahomes