Saints' Alvin Kamara Holds RIDICULOUS Stat Over Most NFL Teams
Published 12/27/2020, 4:24 AM EST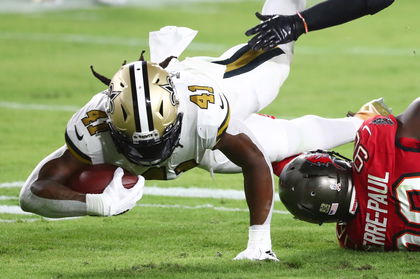 ---
---
Alvin Kamara has been a breath of fresh air for the New Orleans Saints this season. The Saints' running back has been consistently one of the best players, not just in New Orleans, but in the entire NFL so far.
ADVERTISEMENT
Article continues below this ad
In the absence of veteran leaders like Drew Brees, Kamara became one of the youngsters who stepped up in the important moments.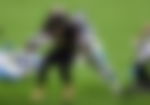 This season, Kamara has completely shattered expectations. And as of now, he currently has more rushing touchdowns by himself than 19 other teams in the NFL.
ADVERTISEMENT
Article continues below this ad
These teams include the Green Bay Packers, Kansas City Chiefs, Tampa Bay Buccaneers, Pittsburgh Steelers, and even the Detroit Lions.
Currently, Kamara is averaging 5 yards after a total of 187 rushing attempts throughout the season. In addition to these numbers, he has also registered a career-high 16 touchdowns and 57 rushing first downs.
What's more, he is on track to register another career-high in long yards, sitting at 49 currently.
Alvin Kamara – trendsetting running back
Kamara entered the league in 2017, as the 67th pick (3rd round) of the NFL Draft. The New Orleans Saints selected him to bolster their offensive unit, and immediately he paid dividends.
In his rookie year with the Saints, he became one of the better players at the running back position in the league. By the end of the season, Kamara became the NFL Offensive Rookie of the Year and made it to the Pro-Bowl for the first time in his career.
ADVERTISEMENT
Article continues below this ad
Since then, Kamara has only gotten better as he has played in the NFL. Since making the Pro-Bowl for the first time in 2017, he has been involved every year. This is a significant testament to how well he has been since he joined the NFL.
So far, Kamara has been one of the major factors in the New Orleans Saints' excellent regular season so far. They have an 11-4 record and are one of the front-runners to reach the Super Bowl this year.
ADVERTISEMENT
Article continues below this ad
However, their chances heavily depend on how well Kamara plays as they enter the post-season. But one thing is for sure, Kamara showed that he was one of the best running backs in the NFL this year.