New York Giants' Kayvon Thibodeaux Sports Huge Diamond Pendant at NFL Draft 2022; Estimated to Be 40-Carats
Published 05/02/2022, 4:30 AM EDT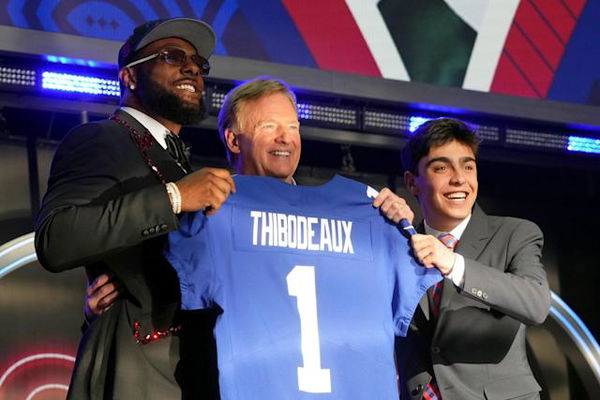 The NFL Draft gives a platform for young and rising football stars to start off at the highest level. Many young players got their dream fulfilled to play in the NFL when their name was called upon the stage. The drip, is very integral to your draft day. The players will look back at this moment for years to come. So the vibe's gotta be right. Most draftees were on point. However, the one who caught everyone's eyes was Kayvon Thibodeaux.
The New York Giants drafted Kayvon Thibodeaux with the 5th overall pick in the NFL Draft 2022. The Edge Rusher from Oregon registered a timing of 4,58 seconds in the 40-yard dash during the Draft combine. He was on many teams' radar, but the Giants were able to land him.
ADVERTISEMENT
Article continues below this ad
However, the star Edge Rusher was also in the news for various other reasons. He was spotted wearing a huge diamond pendant estimated to be of 40-Carat. It was designed by famous jewelry maker Saki Diamonds.
More about Kayvon Thibodeaux's Diamond Pendant
Saki told TMZ sports that Kayvon wanted to honor his " Jream " foundation (pronounced dream) with his diamond pendant. He said, "It meant a lot to me."
Surprisingly, the pendant and chain both are reversible, and they also glow in the dark. Kayvon's pendant perfectly matches his swag, and it was pretty visible on the stage when he got drafted.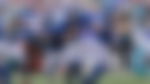 Saki added and said, "He can have 4 different looks in one chain and pendant, when the lights go off on the pendant, you still see the clouds and the stars."
Kayvon is ready to take on the challenge in New York
Kayvon Thibodeaux is a talented young player, who looks to make an impact for the Giants from day 1. Being a top-5 pick in the NFL Draft brings a lot of pressure on many young players. However, Kayvon isn't made like that. He is likely to make an immediate impact for a Giants team, that has struggled a lot over the past few years.
ADVERTISEMENT
Article continues below this ad
The Giants general manager Joe Schoen explained the decision to draft Kayvon Thibodeaux with the 5th overall pick and said, "We did a lot of work on those [offensive tackles], but after the pass rusher, after Thibodeaux, there was quite a drop, We like the tackles very similarly, so we thought it was best to let it play out and get the pass rusher first."
Even though the player and the organization are quite confident about the pairing, it will only be proved right, once we get to see him on the field with the Giants jersey.
ADVERTISEMENT
Article continues below this ad
Watch This Story: Trey Lance, Odell Beckham Jr Weigh In On Deebo Samuel's Departure from 49ers; OBJ Threatens to Leak Details