'Eli Owns Your Husband': Here's Gisele Bundchen's Reaction to a Drunk Fan's Comment on Tom Brady
Published 12/16/2021, 7:11 AM EST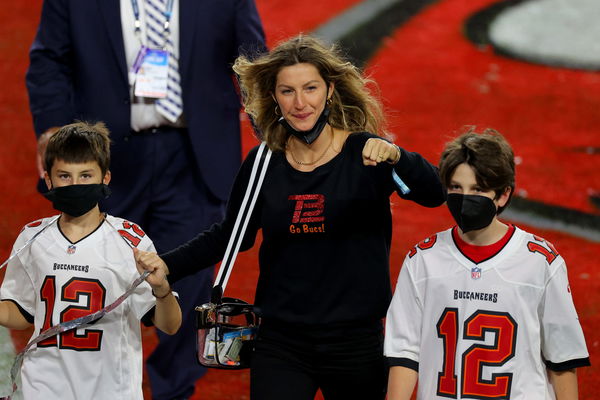 ---
---
Tom Brady's Man in the Arena has opened up avenues to discuss the career of one of the greatest of all time. Tom Brady has been the centrepiece of the NFL for over two decades. During his days with the New England Patriots, he led them to some of the most iconic wins in Super Bowl history. However, there are certain aspects that aren't as rosy as it may seem, which include Gisele Bundchen.
ADVERTISEMENT
Article continues below this ad
When Gisele Bundchen tried to defend Tom Brady
ADVERTISEMENT
Article continues below this ad
Gisele Bundchen, one of the most successful supermodels and entrepreneurs in the world, is Tom Brady's second wife. After his split with Bridget Moynahan, Brady and Gisele began dating and their relationship is one of the most celebrated in the sports world. But being the wife of the league's best players comes with pros and cons.
ADVERTISEMENT
Article continues below this ad
Bundchen would often have to deal with backlash whenever her husband's performance on the field faltered. One such incident became a topic of discussion during episode 5 of Man in the Arena. The ESPN+ docuseries offers insight into the career of Tom Brady – the ups and downs, friendships and rivalries – and of course his personal life.
After Brady's Patriots lost Super Bowl XLVI to New York Giants, Gisele Bundchen faced some of the worst taunts in NFL history. During the episode, we see Gisele walking out of the stadium as a supposedly drunk Giants fan yells, "Hey Gisele, Eli rules. Eli owns your husband." Gisele then narrated the incident in her words, saying, "These [guys] who's probably had a few drinks on them as well, were like 'You husband [sucks], Eli Manning owns your husband. He's old, he's gotta retire. Just tell him to go home and cry like a baby."
ADVERTISEMENT
Article continues below this ad
What followed led to the NFL world being shaken to its core. We can hear Gisele saying, "My husband cannot f*ck*ng throw the ball and catch the ball at the same time." These words would not only affect Tom and Gisele, but the entire Patriots sqaud. The media left no stone unturned in making Gisele's comments sound like the most ridiculous thing ever heard.