New York Jets HC on Rookie CB Fanboying Over Tom Brady Post Embarrassing Loss: "I Have No Problem With It,"
Published 01/04/2022, 2:34 PM EST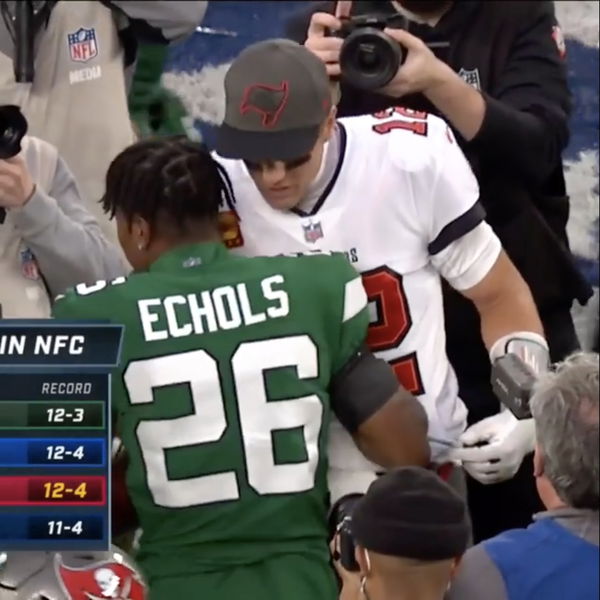 While last night's match between Tampa Bay Buccaneers and the New York Jets was headlined by Antonio Brown and his antics; there was one wholesome post-match moment involving Tom Brady and rookie Jets CB Brandin Echols that has won the hearts of NFL Twitter.
Brandin Echols shares a fanboy moment with Tom Brady post embarrassing loss
ADVERTISEMENT
Article continues below this ad
With only two and half minutes to go for halftime, Tom Brady made a long throw intended for Chris Evans. Unfortunately for the GOAT, the ball got intercepted by rookie cornerback Brandin Echols. While his interception did not help the Jets win, it is still a commendable act.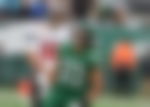 Post-match, while Brady was basking in the success of his yet another comeback victory, the rookie meekly went to the Bucs quarterback and asked for his autograph on the match ball. Unsurprisingly, Brady obliged thus capping off a memorable night for the Echols.
Jets HC Robert Saleh calls Echols' gesture "ballsy"
As wholesome as the interaction between Brady and Echols was, a few sections of the media would still ask the question – Was Echols so unfazed by the loss that he prioritized Brady's signature? Unsurprisingly, Jets head coach Robert Saleh was asked this and he replied affirming solidarity with the rookie
ADVERTISEMENT
Article continues below this ad
"I have no problem with it," Saleh said. "Not at all." The 42-year-old then shared how Echols cared "that we lost". He also viewed the rookie's post-match action as "ballsy". "To be able to pick off a guy like Tom Brady," Saleh added, "I'm not sure how many guys can say that."
Robert Saleh had no issue with Brandin Echols getting his interception ball autographed by Tom Brady after the game:

"He picked off Tom, that's a childhood dream" pic.twitter.com/Pm1a1EJZe9

— Jets Videos (@snyjets) January 3, 2022
ADVERTISEMENT
Article continues below this ad
Glad to see that Robert Saleh has taken Echols' gesture in a positive spirit. Would you have done the same if you were in the place of the rookie cornerback? Share your answer in the comments section below!