NFL Calls off International Games Ahead of the Upcoming Season
Published 05/04/2020, 12:19 PM EDT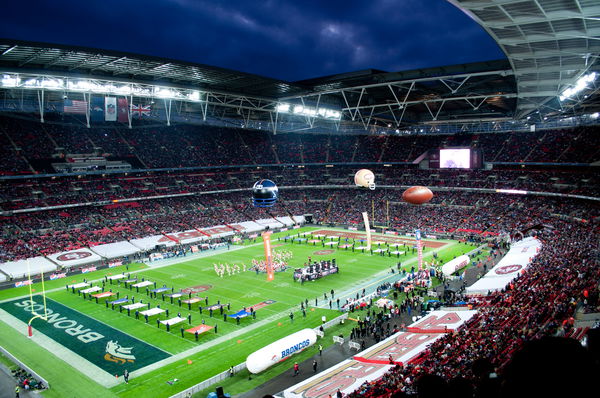 ---
---
As soon as the league officials confirmed that the preseason for the NFL 2020 will be revealed this week, speculations began arising from the fans as to how would the International Games be held. Now, with the schedule yet to be announced it is believed that the NFL is calling off the international games in 2020 in the wake of the coronavirus outbreak. Which means that the games to be played in London and Mexico City would stay cancelled.
ADVERTISEMENT
Article continues below this ad
NFL plans to release its preseason and regular-season schedule later this week, but one league source said Sunday that he doesn't "think any international games (are) coming this year."

— Adam Schefter (@AdamSchefter) May 4, 2020
ADVERTISEMENT
Article continues below this ad
This decision would make the Miami Dolphins miss their scheduled home game in London. Heading into the NFL 2020 international series, Dolphins were to host a home game in either London or Mexico City. But when the Arizona Cardinals were picked for Mexico City, Dolphins got the chance to play in London by default. But a report prepared by The Daily Mail confirmed the cancellation of NFL events in London.
"Given the uncertainty surrounding international travel and mass events, hosting games in London this October is not feasible and the NFL are expected to complete their entire season in America", The Daily Mail reported.
ADVERTISEMENT
Article continues below this ad
This cancellation will cost the Premier League giants, Tottenham £4 million
NFL International Series
The NFL International Series was a way of promoting the league outside of the United States. The officials started conducting international matches from 2007. The decision came shortly after a record-breaking attendance of 1 Million was recorded in Mexico when the Cardinals took on the 49ers, in the year 2005. The League saw this an opportunity to make the game accessible to a wider audience. The then commissioner of NFL, Roger Goodell investigated the chances of expanding the franchise. After a strenuous review, the first game was held at the Wembley Stadium when Miami Dolphins hosted New York Giants. Since then, the games were played religiously until now.
ADVERTISEMENT
Article continues below this ad
NFL 2020 Schedule.
Regardless of the current situation, the league officials confirmed that the NFL 2020 would move forward without further delay. Brian McCarthy confirmed the same on an interview. He said, "If we have to make adjustments, we will be prepared to do so based on the latest guidance from our medical experts and public health officials and current and future government regulations" With the preseason revelation coming this week, teams are making the most out of the virtual place to mentally prepare themselves for the NFL 2020 season. Teams holding virtual meetings through Monday to Thursday, to get even better.