NFL Analyst Believes Giants' Daniel Jones Could Have Been the Best Quarterback Behind Trevor Lawrence in the 2021 Draft
Published 02/15/2021, 3:10 AM EST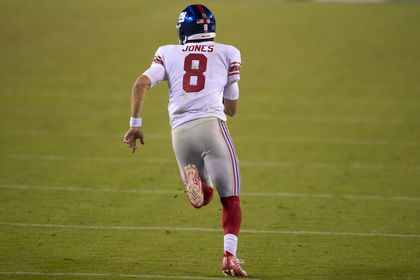 ---
---
Daniel Jones has struggled to make a mark in New York. He was the 6th overall pick in the 2019 NFL Draft but hasn't found much success. New York Giants' fans must be frustrated, given the high potential that Jones was touted of having.
ADVERTISEMENT
Article continues below this ad
But fans are yet to see a glimpse of that potential from Jones. Despite this, one analyst has given him a huge stamp of approval.
Kiper Jr. has high praise for Daniel Jones
ADVERTISEMENT
Article continues below this ad
NFL analyst Mel Kiper Jr. spoke to the Breaking Big Blue podcast. When talking about the quarterbacks in the 2021 draft class, Kiper made a bold comment.
He believes that Daniel Jones would be the best quarterback in the 2021 draft class, only behind Clemson standout Trevor Lawrence.
"I think Daniel Jones is a better quarterback in this draft than everybody except Trevor Lawrence. Zach Wilson would be the closest to him and then Justin Fields.
"But I would say that Daniel Jones in this draft would be the second quarterback behind Trevor Lawrence. Coming out of Duke, he would have been the second-highest-rated quarterback." (h/t– SBNation)
Kiper added that while Jones has been a disappointment for Giants fans, there is very little he could have done. The Giants' offensive line does little-to-nothing to protect him when he has the ball in his hands.
On the few occasions that he has performed well, it has been in spite of the Giants' offensive line rather than because of them.
"I don't know what else he could have done. If you're looking for a guy to be perfect without the offensive line, without Saquon Barkley, without receivers, without tight ends catching the ball on a consistent basis…
"I don't know what else he could have done. And I don't know what else you can say to say this justifies where he was taken."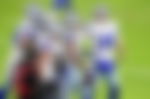 Jones doesn't have the tools to succeed in New York yet
Kiper concluded by saying that Jones cannot be perfect. The conditions around him are too adverse for him to overcome them just yet, being only a rookie and then a second-year quarterback. Without pieces around him to bolster his charge, Jones can only do so much with the skill that he has.
ADVERTISEMENT
Article continues below this ad
"You can't have everything perfect if you don't have perfect things going on around you. And there was nothing perfect about what was going on around him…
"I get the criticism, but it's unfair because they are rookies and second-year quarterbacks without great talent around them."
Can Daniel Jones turn his fortunes around with the New York Giants? Fans will be hoping that he proves to be like Cleveland Browns Baker Mayfield, who only began to perform better by his third season in the NFL. Interestingly, Jones' third season with the Giants begins when the 2021 NFL season kicks off.
ADVERTISEMENT
Article continues below this ad