NFL Analyst Believes This NFC East QB is Going to Have A Breakthrough Season in 2021
Published 06/30/2021, 10:54 AM EDT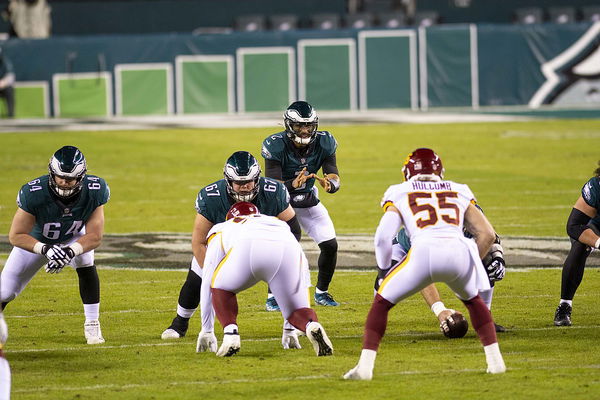 ---
---
The battle for the NFC East is set to be a tight affair in 2021. While the division was undeniably the worst performer last season, there are reasons to believe that 2021 will be different. 
ADVERTISEMENT
Article continues below this ad
The Philadelphia Eagles, Dallas Cowboys, New York Giants, and the Washington Football Team have all looked to address several weaknesses which plagued them last season.
While all four franchises will be looking to make it to the playoffs after collectively disappointing last season, an NFL analyst feels a turnaround in performances of a certain QB could get one step closer to clinching the NFC East.
ADVERTISEMENT
Article continues below this ad
Daniel Jones' role could be crucial in winning NFC East  
During a segment of his show 'Greeny', NFL analyst Mike Greenberg talked about which NFL QB he expects to have a breakthrough season in 2021. And the analyst said he feels that 2021 could finally be the year New York Giants QB Daniel Jones steps up to the plate.  
"I thought about it for a while. And here's the name I came up with; how about Daniel Jones? How about Danny dimes? Let's think for just a minute about that situation. Set up to succeed? I think so," said Greenberg.
Talking about the efforts put in by the franchise to help the QB succeed, Greenberg listed the players who could help Daniel Jones unlock his true potential. 
"They have moved heaven and earth to make this thing work this year. They've addressed their offensive line… They get back Saquan Barkley. They bring in Kenny Golladay, who is your tall, physical go-up and get 50-50 balls receiver. 
"The Giants also drafted Kadarius Toney, who I'm here to tell you has a chance to be a superstar… They have the talent at tight end. This is an offense that could be, should be set up," he said.
New York Giants have the set up to succeed
Set up for success, Greenberg reiterated that Danny Dimes could finally be the man to guide the side back to the pinnacle of the NFC East.
ADVERTISEMENT
Article continues below this ad
"They have set this up around him. And if he is going to get it done, this is it. I mean, this clearly is it for him. And I think it is set up for success. I actually think Danny dimes has a chance to have a very good year."
The Giants will face stiff competition from the Cowboys and defending champions WFT for the NFC East crown. But if Daniel Jones indeed has the season Greenberg believes he is capable of having, the New York Giants might well end up having their first playoff appearance since 2016. 
ADVERTISEMENT
Article continues below this ad