NFL Analyst Compares Draft Prospect to Tyreek Hill
Published 03/14/2021, 3:07 PM EDT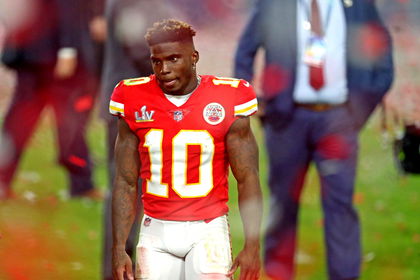 ---
---
Tyreek Hill is one of the best wide receivers in the NFL. Hill has been a crucial reason for the Kansas City Chiefs' success over the year.
ADVERTISEMENT
Article continues below this ad
For many, Hill has transformed the way a wide receiver plays, and his profile is extremely sought after. Every team is looking for the next Tyreek.
However, one analyst believes that the next Tyreek Hill is in this year's draft class. Connor Rogers spoke about NFL Draft prospect, Jaylen Waddle.
ADVERTISEMENT
Article continues below this ad
He believes that Waddle has a very similar profile to that of Kansas City Chiefs' Tyreek Hill. Rogers did note that there have been a lot of players compared to Hill in the past, but Waddle is making a good case for himself.
Rogers also believes that much like Hill, Waddle is incredibly fast, especially compared to other draft prospects.
"When they posted the comparison to Tyreek Hill, a lot of the reaction was, and I understand this, we get a new Tyreek Hill each year, but nobody is Tyreek Hill.
"This is the closest it is going to be. This somebody that is going to run in the four-twos on the field with acceleration after they catch. He's faster than everyone else." Jaylen Waddle- The next Tyreek Hill?
Rogers added that Waddle is one of the best wide receiver prospects in the league. Aside from his speed, he is also a great catcher. And he can make excellent runs while in possession of the ball.
He believes that Waddle could be an exciting addition to any franchise looking to add speed to their offense.
"You see two guys running behind him, they can't stay with him. Underneath the field, get up and go. He's a phenomenal kick returner. He's always open.
"With Waddle, there is time where if you punch just a little bit, you can't find any other defender on the field.
"They're falling down, they're grabbing their ankles. If you need a deep threat, if you need more speed in your offense, you're taking Waddle."
ADVERTISEMENT
Article continues below this ad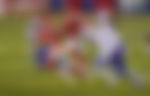 Can Jaylen Waddle live up to the hype of being Tyreek Hill? Hill is still very young in his career but has the opportunity to go down as one of the all-time great wide receivers by the time he calls it a career.
He makes up the very exciting attacking core of the Kansas City Chiefs at the moment, who will be looking to return with a vengeance next season.
ADVERTISEMENT
Article continues below this ad