NFL Analyst Explains Why Jets Would Pick Justin Fields Over Zach Wilson
Published 03/15/2021, 12:43 PM EDT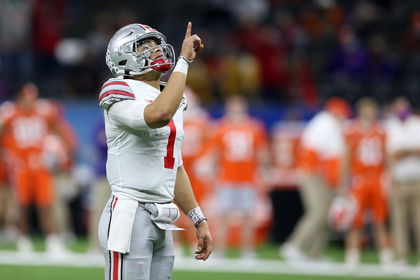 ---
---
The NFL Draft is coming up soon, and there is an anticipation of which prospect will go where. The New York Jets had an extremely poor season last year, finishing with a 2-14 record – the 2nd-worst in the league.
ADVERTISEMENT
Article continues below this ad
As a result, they will have the #2 overall pick in the Draft. One analyst believes they should select Justin Fields with that pick.
NFL analyst Bucky Brooks spoke recently on the Rich Eisen show. He believes that Justin Fields is better than his fellow draft prospect, Zach Wilson.
ADVERTISEMENT
Article continues below this ad
He listed Fields' best qualities such as his athleticism and his ability to throw the ball great distances. Brooks believes that Fields plays as a prototypical quarterback should.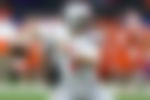 "It's tough. I just think Justin Fields is a better player. I think some like the way that Zach feels and plays the game. He plays it like a quarterback should play.
"He goes through his progression, he goes to the wreath, he has a tremendous arm talent. And he has the athleticism and those things. I think for them, they may be fascinated by that potential."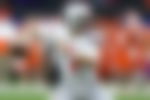 Justin Fields to the New York Jets?
Brooks also added that Wilson has a slightly higher ceiling than Zach Wilson going forward. He attributed Fields' performances against tougher teams during the collegiate camp.
Furthermore, Brooks added that while he believes Zach Wilson will be picked higher, the New York Jets should go get Fields.
ADVERTISEMENT
Article continues below this ad
"I would say that Justin Fields to me has a higher ceiling. Bigger, faster, stronger, more dynamic. We've seen him play big-time competition in the big ten. No slight to what BYU has been able to face, but it's different.
"So for me, I'm willing to gamble on Justin Fields over Zach Wilson. Even though I think that Wilson will be the second quarterback to come off the board."
Will Justin Fields go to the New York Jets. They may want to use their draft pick to pick up the best possible draft pick. And Fields is showing signs of potential greatness going forward. The Jets need to be very smart with their draft pick, and Fields could be a great use of that pick.
ADVERTISEMENT
Article continues below this ad