NFL Analyst Explains Why Justin Fields Has Lost Momentum Going into the 2021 Draft
Published 04/01/2021, 3:53 PM EDT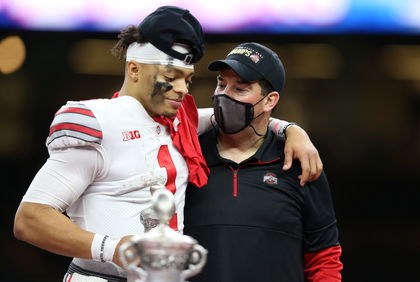 ---
---
Justin Fields was one of the foremost prospects coming into this year's drafts. Many analysts tipped Fields to be a Top-3 draft pick this year.
ADVERTISEMENT
Article continues below this ad
His performances with Ohio State were excellent, even reaching the national championship game. But in recent weeks, his stock has diminished, and analysts are unsure about his prospects in the NFL.
NFL analyst and draft expert Todd McShay spoke about the recent controversy surrounding Justin Fields. He noted that while there isn't anything overtly negative about Justin Fields, he has the right size, strength, speed, build, and accuracy required to be a quarterback in the NFL, there are some aspects of his game that may not translate well into the league.
ADVERTISEMENT
Article continues below this ad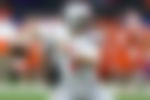 "Here's the narrative you'll get from everyone in the league. He is probably the most gifted quarterback in the class. When you look at his weight, his height, his speed, his arm strength, and his accuracy. He is a very accurate quarterback.
"When you go and study the tape on him, Northwestern threw a lot of things at him, in terms of zone covers and different looks, and he struggled. Indiana did the same and he struggled."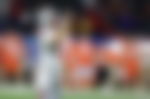 Justin Fields- Top-3 QB Pick?
McShay pointed to a recent study conducted by a team on Fields' playing style. The study indicated that Field tends take the safe option on the field and pass the ball to his first-choice wide option.
While that isn't a negative, it raises concerns about the versatility of his play. The numbers show that he very rarely deters from the primary wide option, but given the quality around him, it is understandable.
"Most importantly, there was a team that did a research project, studying all of his reads and what he went through this past year. Over 200 of his throws were to his primary receiver.
"Now that is a good scheme, and he has really good weapons, so he's taking advantage of it. It's not necessarily a negative, but you don't see him progress that often from the first read to the second read…"
ADVERTISEMENT
Article continues below this ad
McShay added, "That's what is concerning to NFL teams. The other thing, he likes to see his receiver come open, rather than leading his receiver and anticipating throws on the field. Those are the two minor issues."
Where will Justin Fields be drafted? While he was earlier projected to be a Top-3 draft pick, it is looking increasingly likely that he won't be. However, there is a lot of time between now and draft day, and Fields' stock could yet well rise.
ADVERTISEMENT
Article continues below this ad