NFL Analyst Gives His Take on Washington Football Team and their Playoff Chances
Published 01/02/2021, 11:50 AM EST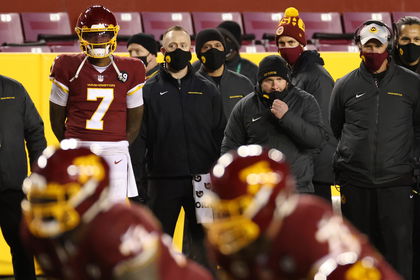 ---
---
The Washington Football Team has had a mixed bag of a season. Playing in a weakened NFC East, Washington currently has a 6-9 record, and sits first in the division.
ADVERTISEMENT
Article continues below this ad
However, the playoff spot is not certain, as they must defeat the Philadelphia Eagles to ensure that the Dallas Cowboys cannot surpass them. It will be a big game for Washington.
NFL analyst Ryan Clark spoke on First Take about what he thinks will happen with Washington. He believes that Alex Smith playing at quarterback is the key to their win.
ADVERTISEMENT
Article continues below this ad
He said, "You just never know what goes on with the NFC East. You don't know anything about these teams. I believe if Alex Smith is the quarterback, they have the best chance to win this week.
"I believe that is the way this team plays better under his leadership and inspiration." 
Clark added that Smith's work on the ball, especially the way he protects it and allows other teammates to be free, makes them dangerous.
Additionally, he also pointed to Chase Young and the defensive unit's importance to their victory, especially against Jalen Hurts.
Washington Football Team need to win
"And also, the way that he protects the football and allows guys like McKissick and Gibson to play in the backfield. But Gibson has been ganged up in the last few weeks.
"It is about this defense. Do Chase Young and this defensive line dominate Jaylen Hurts? When you go back to the last two games, he has been pressured 45 times and sacked 9 times." 
He added, "Against the Saints in Week 1 in the first week that he started, he wasn't sacked at all. He made quick decisions, he got outside of the pocket, used his legs.
"We haven't seen those things the last two weeks, and so you combine that with the way that this team plays defense upfront, some of the secondary players that they have that can make some plays on the outside it looks like Washington should win." 
ADVERTISEMENT
Article continues below this ad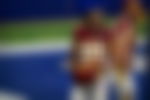 Yet, Clark mentioned that the NFC East is unpredictable, and no team can be a standout favorite. "But that's the NFC East. They might come into the game and totally blow it.
"And then we see the Dallas Cowboys in the Playoffs, and Jerry Jones is saying, 'I told you so'. And so it looks like Washington should be the favorite, but these games have to be played and this division is unpredictable."
ADVERTISEMENT
Article continues below this ad
If Washington can pull off a victory over the Eagles, they will enter the Playoffs. And as we have seen in the past, the NFL Playoffs cannot be predicted. If Washington can make it to the Playoffs, they stand a good chance to cause an upset.