NFL Analyst Insists Drew Brees Belongs on QB Mount Rushmore Alongside Tom Brady
Published 03/21/2021, 4:50 PM EDT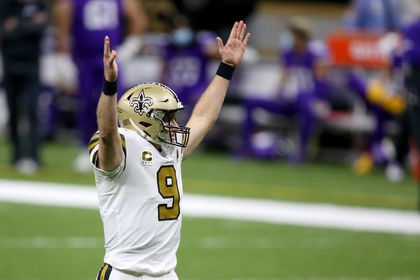 ---
---
Drew Brees is one of the greatest quarterbacks of all-time. The Saints legend enjoyed a lengthy tenure in the NFL, where he did everything possible, including leading the New Orleans Saints to a Super Bowl.
ADVERTISEMENT
Article continues below this ad
Brees announced his retirement from the game and will forever be cherished as one of the greatest. But one analyst believes he belongs in the upper echelon of quarterbacks in the NFL.
NFL analyst Dan Orlovsky discussed his Mount Rushmore of quarterbacks recently. He believes that Drew Brees belongs alongside Tom Brady, Aaron Rodgers, and Peyton Manning for the greatest quarterbacks of all time.
ADVERTISEMENT
Article continues below this ad
Orlovsky further noted that Brees is among the top record holders in NFL history and brought up his amazing 5000+yard performances as evidence of the same.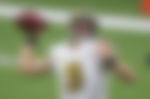 "I obviously have Tom, I've got Peyton, I've got Aaron Rodgers and I've got Drew Brees. Drew Brees, I've been on this for years, belongs in this conversation.
"When you look up NFL records, you're going to see his name at the top or near the top of everyone…This is why he belongs on Mount Rushmore. First of all, there's been 11 5,000 yard performances in the NFL, passing-wise. Drew Brees has 5 of them."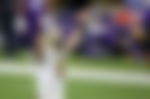 Drew Brees belongs on Mount Rushmore
Orlovsky added that Brees has some of the best numbers in the NFL. Whether it be his passing completion, quarterback rating, or even his consistency, the Saints quarterback's numbers are up there with the best of the best.
In fact, He looked at his quarterback rating for his entire career, noting that he is only among 3 quarterbacks to have a rating over 70.
"He's the greatest competition percentage holder. He holds the highest completion percentage in a season in the history of the NFL.
"He's got 6 out of the Top-9. There's 3 guys in the NFL's history that have a QBR over 70 – Peyton Manning, Tom Brady, Drew Brees." 
Orlovsky concluded that Brees was regularly putting up excellent numbers over the course of his career, and was able to do all this with a shaky defense around him.
ADVERTISEMENT
Article continues below this ad
"He's got the most passing touchdowns, he's got the most completions, he's got the most yards, 54 straight games with the touchdown passes. And he did it while having one of the worst defenses for most of his career."
Does Drew Brees belong on the Mount Rushmore of quarterbacks? He is without a doubt one of the best quarterbacks of all-time.
However, while he may not be as decorated as some of the other contenders, his numbers speak for him. But perhaps as time goes on, more people will appreciate his greatness.
ADVERTISEMENT
Article continues below this ad