NFL Analyst Launches SCATHING Response Over Dwayne Haskins Controversy
Published 12/29/2020, 12:50 PM EST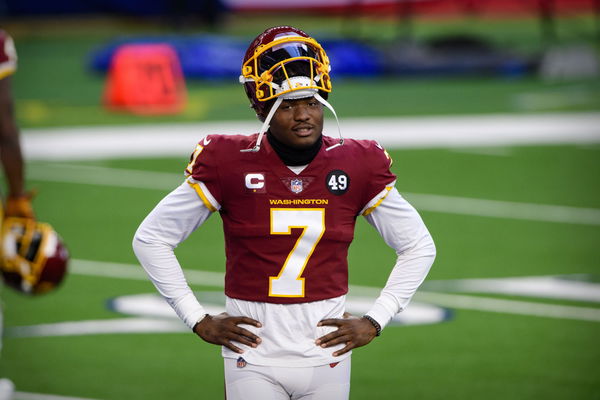 ---
---
Dwayne Haskins has been the subject of great controversy recently. After an off-the-field scandal, where Haskins was found violating COVID-19 guidelines, he was released by the Washington Football Team.
ADVERTISEMENT
Article continues below this ad
Haskins made a serious blunder, and Washington no longer deemed his services necessary. NFL Analyst Booger McFarland spoke on ESPN about the recent Haskins release.
McFarland took the opportunity to address a larger problem with young players in the NFL today. He believes that very few players take the sport seriously as a business venture and treat it like a game.
ADVERTISEMENT
Article continues below this ad
He said, "They come in and they don't take this as a business. It is still a game to them. This is a billion-dollar business. They pay us a lot of money to talk about the games.
"Imagine what they pay these guys to play the games. They play a child's game and get paid a king's ransom. And it bothers me." 
He added, "I saw a quarterback do it. I saw JaMarcus Russell do it. The number one pick in the draft, they gave him $40 million, and he threw it down the damn drain because he didn't take it seriously.
"And it bothers me because there aren't a lot of jobs like this around. I've been retired a while. Not a lot of jobs around like this where they pay you millions of dollars for virtually 6 months of performance." 
Dwayne Haskins being released sends a message
McFarland then sent a message to Haskins and other young players in the NFL, that they should take things seriously. He opined that their motivation should be more focused on improving themselves and their team rather than social media.
"So my message to Dwayne Haskins, and the rest of the NFL – Man, this is a game but take it as a business. There are billions of dollars at stake.
"And until you start approaching this game that way, until you start coming to work and saying – what can I do to get better today?
ADVERTISEMENT
Article continues below this ad
"What can I do to make sure my teammates are better today? How can I put my organization first instead of my damn Instagram?"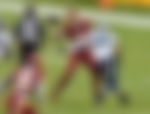 He angrily remarked, "Take it as a serious business! But too many times, it is a game. We want to TikTok, we want to do all these different things. Man, do you understand how much money is at stake?" 
ADVERTISEMENT
Article continues below this ad
Perhaps Haskins' release will be the incident that forces players in the NFL to take a more serious approach to the sport of football.
While there is no harm in looking at the sport as a leisurely venture, McFarland is right when he says that there is a lot of money on the line.