NFL Analyst on How the Aaron Rodgers Trade Saga Can Impact the Green Back Packers in 2021
Published 08/01/2021, 1:25 PM EDT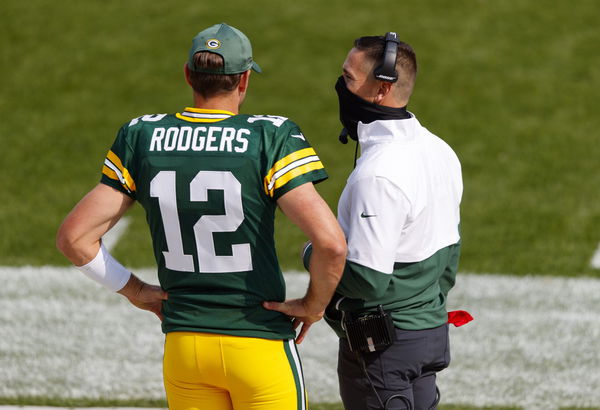 ---
---
The drama involving Aaron Rodgers and the Green Bay Packers took center stage throughout the course of this offseason. With Rodgers reportedly done dealing with the Packers' front office, the franchise QB held out from attending OTAs and minicamp.
ADVERTISEMENT
Article continues below this ad
This led many to believe that Rodgers had played his last game for the franchise. But that is not to be. The quarterback has returned to play for the franchise under certain conditions which see his future beyond 2022 a bit of a mystery. This can of course have a negative impact on any team. When a franchise star quarterback wants out, it's never a good sign. So will the Aaron Rodgers trade saga impact the Packers' output in 2022? One NFL analyst weighed in.
ADVERTISEMENT
Article continues below this ad
Packers unlikely to see a dip due to Aaron Rodgers
Appearing on the Rich Eisen Show, NFL analyst Jeff Darlington was asked how the Packers could be affected with all the controversy surround 2020 NFL MVP Aaron Rodgers.
While the Rodgers scenario does serve as a distraction, it's not something that should affect the Packers' output. Instead, Darlington feels Aaron Rodgers returning is the biggest boost the Packers could get.
"To me, the only thing that matters is Aaron Rodgers being back… To me, simply getting Aaron back is big," said Darlington. "I subscribe to the belief that players are pretty resilient," he added.
ADVERTISEMENT
Article continues below this ad
The analyst further stated the example of the 2013 Seahawks that won Super Bowl XLVIII despite their players Golden Tate and Percy Harvin getting into a fist fight a night before the big game.
"I always think back to the night before the Seahawks won the Super Bowl. When Percy Harvin and golden Tate got into a fistfight literally the night before the Super Bowl.
ADVERTISEMENT
Article continues below this ad
Like if that if they can do that and win the game and win the Super Bowl. I kind of subscribe to the belief that maybe a Hall of Fame quarterback can come back into his locker room and and perhaps bridge any awkwardness that might exist," he said.
Rodgers beef isn't with the players or the coaching staff. His issues are with the team's front office. A favorite amongst Green Bay players, there's little reason to believe the Aaron Rodgers scenario would affect the output of the team overall.