NFL Analyst Points Out What Lamar Jackson Must Do to Shut Down His Critics
Published 03/23/2021, 9:15 AM EDT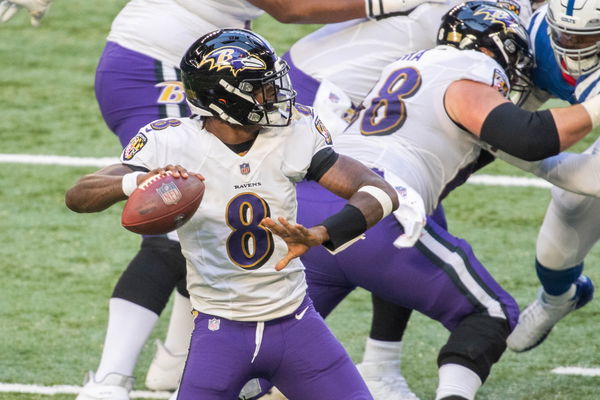 ---
---
Lamar Jackson is no stranger to criticism. Ever since he was drafted by the Baltimore Ravens as the 32nd overall pick of the 2018 NFL Draft, the quarterback has constantly been in the line of fire.
ADVERTISEMENT
Article continues below this ad
While there's no denying Jackson's overall ability as a football player, it's his passing range that has often been a topic for debate.
The 2019 MVP is one of the best dual-threat quarterbacks in the league. His ability to run the rock makes Jackson an elite playmaker. But his passing game is something that can let him down.
ADVERTISEMENT
Article continues below this ad
This criticism, however, is unwarranted according to some. And one who belongs to this school of thought is former Baltimore Ravens wide receiver Dez Bryant.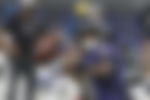 Bryant, who was Jackson's teammate in Baltimore last season, recently tweeted in defense of his former QB.
"All of this Lamar hate is starting to get on my nerves….just know I got to see first hand what he have to deal with.. him being able to play QB is far from the issue," he tweeted on March 21st.
This tweet got many debating. What must Lamar Jackson do to prove his critics wrong? One NFL analyst had a pretty clear-cut answer.
Consistency is key for Lamar Jackson
During a segment of ESPN's Get Up, NFL analyst Kimberley A. Martin said that to dispel his doubters, Lamar Jackson must be more consistent with passing the football. But for that to happen, she also said that the team must offer him an elite route runner.
"Until the Ravens get him a true #1 wide out and until Lamar is able to consistently show that he can excel in the passing game, those questions, those doubts are going to continue to be raised," Martin said.
Further adding how he's been criticized for his passing even before being drafted, Martin said that until he solidifies his passing game, the doubters will continue to criticize him.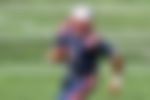 ADVERTISEMENT
Article continues below this ad
"He's been criticized since the pre-Draft process, so until he solidifies that part of his game, those doubts are going to be there."
The criticism of Lamar Jackson could very well be based on bias. As far as stats are concerned, Lamar Jackson isn't as bad a passer as many view him to be.
In fact, over the course of 37 regular season starts (the number of games Jackson has played so far), no player has achieved a 100 passer rating and .800 winning% apart from the Baltimore Ravens QB.
ADVERTISEMENT
Article continues below this ad
With that being said, do you feel the criticism directed towards Lamar Jackson is just?